Maintaining a clean environment at your home or office is essential for fostering a productive atmosphere. But how do you pick the ideal cleaning service that suits your needs, interests, and budget when there are so many of them? This blog will assist you in picking a cleaning service in Dubai  for your home or office. Your search for the best cleaning services in Dubai will come to an end with Home Maids who is the leading cleaning company in Dubai that offers the best cleaning services.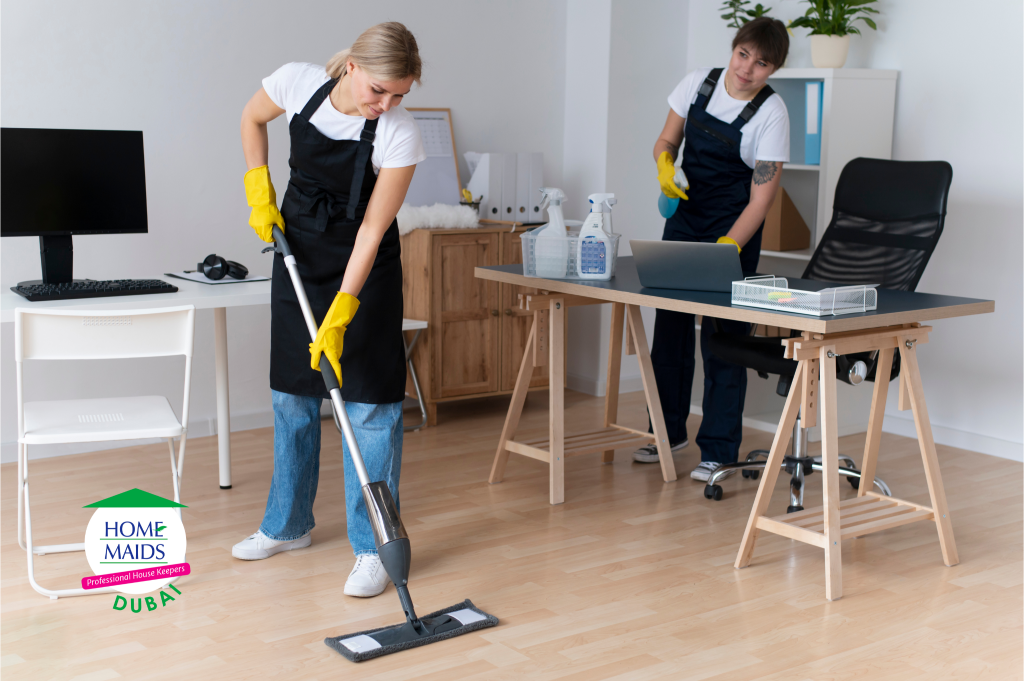 Let's check on how to choose the right cleaning services in Dubai.
Research:
Start by looking into  cleaning services in Dubai. Search for businesses that offer a range of services, have a strong online presence, and good client feedback. Choose a few items from your shortlist that seem to fit your needs.
Check for the review and testimonies:
Reading reviews and testimonials from customers can give you important information about the quality of service a business gives. To determine how the business addresses problems, look for consistency in good comments and pay attention to any bad evaluations.
Clear communication:
An effective client-service provider relationship depends on effective communication. Pick a business that is clear in its communication, answers your questions right away, and offers thorough information.
Attention to detail:
A top-notch cleaning service is extremely detail-oriented. They make sure that every nook and corner is properly cleaned and sanitized, leaving no area unattended. A commitment to quality is demonstrated by attention to detail.
Experience:
An experienced cleaning service is knowledgeable about numerous cleaning methods and is aware of the subtle differences between various cleaning requirements. Their knowledge enables them to handle a variety of cleaning duties successfully and efficiently.
Reliable:
A trustworthy cleaning service exudes professionalism right away. They are punctual, communicate clearly, and show a dedication to constantly offering first-rate service. Look for businesses that value dependability and consideration for your schedule.
Contact Home Maids the leading cleaning company that provides the best cleaning services in Dubai with the most reliable and experienced maid.