Our homes require different levels of cleaning as the seasons change. When it comes to keeping a home tidy and pleasant, each season presents its own special problems. The cleanliness and atmosphere of your home can be significantly improved by changing your cleaning schedule according to the season, whether you're battling winter filth, spring allergies, or summer dust.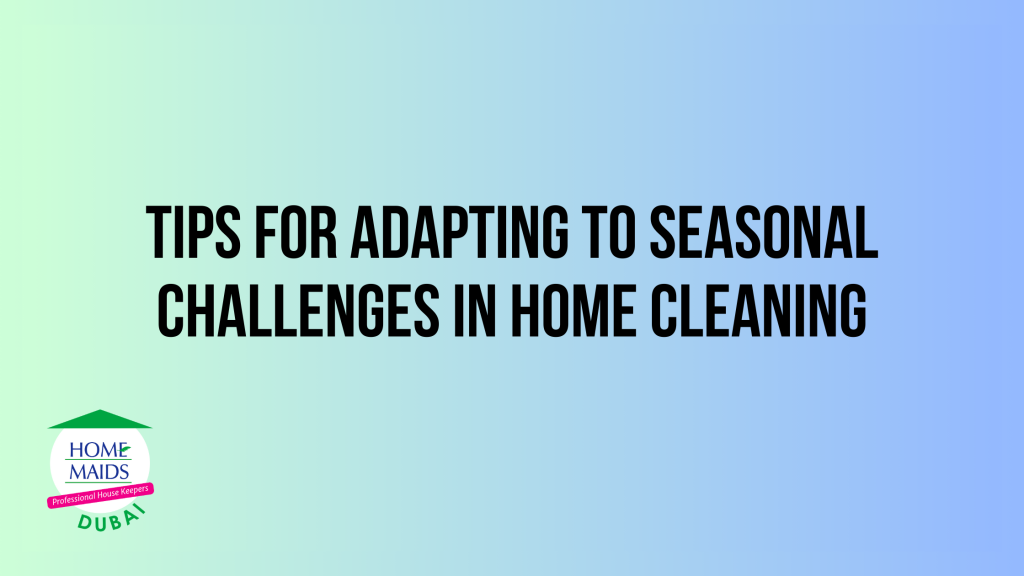 This blog will provide home cleaning advice and techniques to assist you in overcoming the seasonal hurdles and maintaining a welcoming and fresh living environment all year long.
Spring season cleaning tips
After a long winter, spring is a time for regeneration, which includes a complete cleaning of the house. Here's how to modify your spring cleaning schedule
Deep Clean Your Carpets and Upholstery: Mud and moisture are frequently brought inside throughout the winter, leaving your carpets and upholstery in need of cleaning. To get rid of ingrained dirt and allergens, think about hiring a carpet cleaner or renting one.
Pollen becomes a common allergen as trees and flowers blossom. Dust and allergen removal. To keep indoor air clean and allergy-free, dust surfaces frequently, change air filters, and think about buying an air purifier.
Organize and declutter: The spring is a great time to declutter your home. To create a clean, open environment, donate or throw away everything you no longer need.
 Also read, Choosing the right maid services in Dubai.
Summer season cleaning tips
Sunlight may be present during the summer, but so may pollutants from the outdoors and dust. Here are some tips for keeping your house spotless this season:
Regular dusting: Open windows to let in fresh air, but be ready for dust. Dusting frequently keeps indoor spaces clean, particularly in areas with a lot of traffic.
Insect control: The summer is an insect breeding season. To avoid

infestations

, use natural pest control techniques or contact specialists.
Clean Outdoor Spaces: Don't overlook cleaning the outside of your home. To create pleasant locations for summer events, clean your outdoor furniture, decks, and patios.
Autumn season cleaning tips
As the temperature drops, you should get your house ready for the change in season. Here's how to modify your cleaning schedule for the autumn:
Gutter cleaning: In order to avoid clogs and water damage during the rainy and snowy seasons, remove leaves and other debris from gutters.
Winterizing Windows: To keep warm air in and cold air out, seal gaps around windows and doors. If necessary, replace the weather stripping.
Fireplace maintenance: To make sure your fireplace is safe to use this winter, get it inspected and cleaned before lighting it.
Winter season cleaning tips
The goal of winter cleaning is to create a warm and inviting ambiance. How to modify your regimen is as follows:
Regular Maintenance: To avoid dirt and grime accumulation during the winter, keep a regular cleaning plan.
Cleaning up after the holidays: If you decorate for the holidays, you might want to organise your decorations as you take them down to make decorating easier the next year.
Cleaning your house in accordance with the seasons not only results in a cleaner and cozier living space, but it also enables you to meet the particular problems that each season brings. No matter what Mother Nature throws your way, you can maintain your home's freshness and friendliness all year long by paying attention to these suggestions and being proactive.