Thinking of cleaning your home – an organic way? 
If you are looking for a toxic free cleaning with top cleaners available in your kitchen, then this article is for you.
 Be healthy, Be organic, Be you –  Unknown
Are we polluting our home while cleaning? All of us want a clean, pristine home and we do everything we can to make our home and work space to look sparkling, right? We buy a lot of cleaning products by getting impressed with their fancy advertisements and we feel admired by seeing how deeply they clean our rooms. Have you ever checked the ingredient list of these products? Some chemical cleaners may contain harmful toxins in it and it can be a haphazard for you and your family – especially kids and elderly people, which in turn result in allergic reactions to breathing problems.
Organic cleaning products or using natural cleaners is the best way for a non toxic clean which is extremely safer for the family members and your pets. Organic cleaners are safe and toxin free.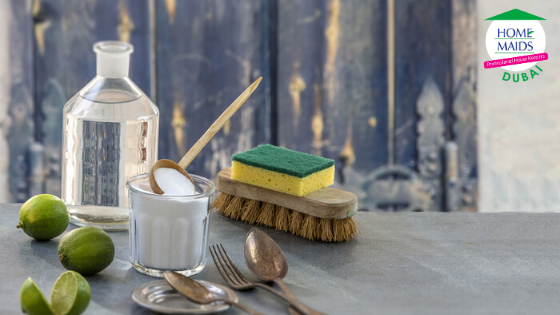 Organic cleaners from the kitchen
"When we go back to what our granny's used to clean our home, an interesting fact is that most of those cleaning agents were from the kitchen itself" says professional cleaning maids in Dubai. And they are right, Kitchen is the granary of a lot of organic cleaning agents. Have a look at these easily available miraculous cleaning agents from your kitchen for a safe and toxic free cleaning. 
Baking soda or sodium bicarbonate is known for its whitening property. Take a damp sponge and sprinkle some baking soda in it. You can do a light scrubbing with this on your furniture or the walls to remove the dust deposit and dirt away from them. Wipe it off using a clean cloth.  You can add a quarter cup of baking soda in half a bucket of lukewarm water and use this solution to mop the floor and then rinse them off. This will add a shine to the floor and brighten your floor, along with deodorizing it.
We all are familiar with vinegar, may be in different forms – white vinegar, apple cider vinegar, champagne vinegar, red wine vinegar and what not! Vinegar is indispensable for our dressings and pickles. It is also known for its disinfectant property and it also loosens dirt. The acidic nature of vinegar makes it a good cleaning agent. The acidity in vinegar helps it to neutralize those sticky-tacky buildups from the floor or in the kitchen. White vinegar has the property to dissolve hard water brines, remove glue residues and soap scums. Vinegar mixed with baking soda can dissolve stains and remove them.  
Lemon has a number of cleaning benefits. Lemon juice can cut through bad grease spots. It gives you a very inexpensive way of cleaning. Lemon can be used as a fridge-refershner. It can deodorize the foul smell inside the fridge. Dip a cotton ball in some drops of lemon and keep that inside the fridge, or you can simply cut down a lemon and keep half in the kitchen to deodorize the kitchen. Squeeze a lemon into a cup of water and cook them in a high temperature for sometime inside your microwave. The steam produced will react and dissolve even with the stubborn stains inside your microwave. You can then dip a cloth inside this solution and use it to gently rub the stains off the microwave. It also deodorizes your microwave. If you want to know more tips about deodorizing your kitchen, here is the link to our previous blog. Lemon juice can also be used for removing oiliness from the vessels, graters and cutting boards. Also, lemon can be the best glass and mirror cleaner. 
Olive oil is not just a healthy cooking oil. This miracle oil has surprising benefits in cleaning and making things shine. Dab a few drops of olive oil in a cotton ball or a clean cloth and use it to gently rub your leather furniture to make it shine and keep the dirt away. Olive oil is good in picking up dirt and it polishes wood. Add some olive oil along with a few drops of lemon juice and use it to wipe your wooden furniture, kitchen cabinets and it add up an instant shine to your furniture. Another use of olive oil is that it can easily remove those sticky labels from glass items. Gently rub 2 drops of olive oil in the sticker and let it sit for 15 minutes and this helps the label to peel off easily and then wash it will clean water to remove any residues.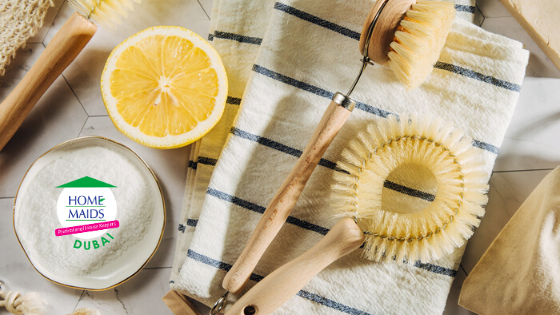 Salt has a lot more power than being a dinner seasoner.  Salt combined with soda can be an amazing fridge cleaner. The granular texture of salt makes it an amazing scrubber to clean those dogged dirt away from greasy pans. Salt is good for eliminating the grease build up the kitchen drainage. Make a mixture of salt with water and pour it down the kitchen sink which helps in deodorize and also eliminates grease buildup in the drainage. Salt can be used to polish brass and copper vessels. Salt is helpful in deterring ants from doorways. Simple sprinkle some salt where ants are present and it will deter them. 
Safe clean your home by professional house cleaners in Dubai
When it comes to deep cleaning, being one of the best home cleaning companies in Dubai, we, Home maids  strive to make sure that we use totally safe products to keep your family protected from toxic chemicals, also making your home germ and dirt free, with a fiercely luminous sparkle. We deep clean and add a glossy luster to your home using safe products which do not contain harsh chemicals. Home maids offer multiple cleaning services that are best fit for our customer requirements. We offer a wide range of services for our customers including house cleaning, Kitchen cleaning, laundry and ironing services, Party helpers, Pet sitting and more. So sit back and relax, we are at your service to deep-clean your home.