In today's digital world, everyone is connected to each other through online platforms. Smartphones have become essential to all aspects of daily life, providing easy access to the latest happenings around the world while you're on the move. Companies are fast adapting to this new world by reshaping their operations to match consumer expectations while differentiating themselves from competitors.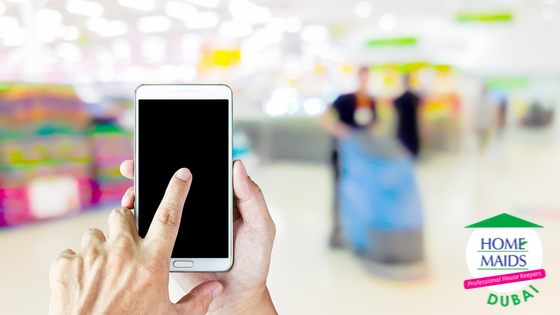 Service industries like cleaning companies in Dubai can benefit greatly by expanding into the digital realm by developing their own mobile apps. In addition to improving access to services, mobile apps provide marketing advantages that establish the brand value of the company and provide a competitive edge against other companies with similar products and services. Here are the benefits of mobile apps for cleaning companies in Dubai.
Client accessibility:
Companies need to interact with their clients to provide their services. For cleaning services in Dubai, this means that clients need to be able to easily approach the company and request their services, receive an assurance that these services would be provided at the earliest, and have the means to provide an assessment of the services upon completion. 
A mobile app provides all these and more to clients. With one touch, they can make an appointment with a Dubai cleaning service, make payments towards the same, communicate with maids, as well as provide feedback after the cleaning is completed to their satisfaction. In addition to providing these services, the company is also in direct contact with the client through the mobile app, enabling them to continue their interactions with the client in the future.
Real-time updates:
The main benefit of having a mobile app is being constantly connected to clients through an online platform. Even after the service has been provided, companies can continue to communicate with clients to ensure that they return in the future. An hourly maid service in Dubai can use mobile apps to provide promotional offers to their clients at any time, enhancing access to their services.
Product visibility:
On average, each person spends more than 4 hours logged on their mobile device. This means that advertising products through the online medium can greatly improve their visibility to a larger client base.  A mobile app is basically the easiest way to get your product across to clients without the logistical nightmares of traditional marketing. For a Dubai cleaning service, this means presenting their specialized services through their mobile app, allowing clients to gain information related to these services directly from you. Sales promotions and offers can also be provided via this medium, making it both a branding and a marketing tool.
Enhances brand value:
Traditional advertising peaked with billboards – large customized advertisements that could be viewed by a large number of people at once, which meant more people could recognize a particular brand. A custom mobile app works on the same principle. Clients who get on the app find a dedicated space where only your brand is visible. 
For an hourly maid service in Dubai, having all details of the company and its products listed on the app helps inform the clients better and allows them to recognize these products as indelible components that contribute to the brand value of the company. The important point here is to make the app informative and appealing to the clients, so that it leaves a lasting impression on them.
Builds client loyalty:
The crucial element of every marketing strategy is to retain existing clients and attract more clients. Digital marketing strategies would usually focus on transposing traditional modes of advertising in the digital domain to achieve this. This could be through email marketing, third-party promotions or advertisements on Facebook and other social media applications. The fact remains that these avenues are used by multiple companies and clients tend to lose sight of your brand among this.
For an hourly maid service in Dubai, a mobile app gives a platform where clients can view the brand and products that they provide, without being swayed by the products from competing companies. 
Improves operational efficiency:
There would naturally be doubts regarding the effect of a mobile app on the day-to-day workings of your business. But having all the internal operations of the company made available on a mobile platform means that you can access and control information related to these operations at any time, reducing paperwork and increasing efficiency. Booking details and sales reports, as well as miscellaneous client data, can help improve the company perform better and engage with clients more openly.
Advantage over competitors:
Differentiating one's products and services in relation to those of competing firms is the basic goal when trying to attract clients. For an hourly maid service in Dubai, this means guaranteeing potential clients that the service they choose from their company is more beneficial cost-wise and quality-wise over those of another cleaning company in Dubai. This also means that ease of access to service is greater when working with their company, allowing more customers to avail of their services.
Thus, having a mobile app establishes your company's presence in the industry while providing the ability to improve the company's competitive edge through a dedicated channel.
Get the best cleaning companies in Dubai:
With all those cleaning companies out there advertising themselves as the best cleaning service in Dubai, you would be confused when trying to choose one for your home cleaning needs. While you are busy shuttling between home and office every day, you might not find the time to go through all the professional cleaning companies in Dubai for your home. Rest assured that the hardest part of the process is making the right choice for your home's specific needs.
Forget about all the home keeping chores when you choose Home Maids Dubai – the best hourly maid service Dubai for all your cleaning needs. Booking with us is really easy. Just download our app on iOS or Android and schedule a cleaning appointment. We ensure spotless cleaning at affordable prices to ensure your satisfaction.