We all know that the world is going through a bad break. The novel coronavirus outbreak has contrived the world to a pandemic stage. Countries like China and Italy have witnessed the coronavirus catastrophe and are struggling to keep the situation in control. Several countries including Dubai have reported many cases of COVID-19 and are in the ongoing battle against this more complex form of coronavirus. According to worldometers update about COVID-19, a total of  220,199 cases reported world-wide till 19th March 2020 , of which 85,769 survived. The mortality rate shows 9% of the total. The virus spread may have reached some of us or may be just a few steps away from us. So stop getting panicked, instead be prepared to face it and fight it. Let us follow hygienic habits recommended by WHO and health experts to prevent the spread of the virus and thus work together for breaking the chain.
House cleaning services in Dubai like Home Maids are committing themselves into the battle against coronavirus. Considering the safety of the clients and the staff during this scarily virulent outbreak of coronavirus, the operations of cleaning maids is running as usual in view of the serious and urgent present need for a clean and hygienic environment to stop the spread of coronavirus. To ensure a clean and hygienic home, Home Maids provide the best home cleaning service with the help of trained and skilled maids and by using advanced cleaning equipment. Home Maids, the most reliable maid company in Dubai takes all necessary precautionary measures to keep the clients and staff protected from COVID-19 with utmost priority.
Why choose a professional house cleaning services Dubai?
A house cleaning service will help you transform your home germ free and spotless. A clean and disinfectant environment is a healthy environment where no bacteria or virus lives. Considering how things stand, we all know the importance of a cleaner home as all of us are in a fierce and decisive strife against the pandemic mode of 2020.
An experienced and well trained cleaner can help you with expert cleaning solutions for your home. You only have to pay for what you need. Availing the service of a professional cleaning agency can help you with a more uniformed approach in cleaning. You don't need to worry about cleaning supplies as the cleaning service you hire will bring their own supplies to ease off your cleaning stress. The main advantage of hiring a cleaning service is that you will get time to sit back and relax, or your family or to play with your pets in your work life balance. A house cleaning service helps you with a futuristic cleaning strategy by reducing your chance for heavy cleaning routines in future. All you need to do is a small cleaning touch up in future. A professional housekeeping service can help you disinfect your house and kill the viruses and bacteria, hence bringing a germ free atmosphere for you and your family.
In Home Maids, we are well prepared for the battle against Coronavirus
We have taken steps to ensure that all precautionary measures are in place, all our staff members have been adequately educated about the situation and the effects. We are committed in the fight against COVID-19 and its spread.
All our staff have been provided with gloves, masks and hand sanitizers.
Hand sanitizer dispensers are installed in the vehicle and all our staff are trained with hand wash steps.
Our maids are educated and trained about the proper way to sanitize their hands before and after each cleaning session.
The staff accommodations have been properly disinfected and sanitized.
Our staff have been educated about the pandemic and the safety and hygiene procedures to follow.
Every Morning the temperature and other symptoms are monitored by the room supervisor before the staff leaves the accommodation. The same is done at the end of their shifts.
Our staff vehicles have been properly disinfected and areas of frequent contact are regularly sanitized.
As we have emerged a new, disquieting and frightening situation, we need to be self prepared to face the situation. Following a hygienic routine is the best way to break the chain of virus spread. Wash your hands frequently with soap or use a hand sanitizer to disinfect your hand. Cover your face with a tissue when you cough or sneeze. Practise social distancing to prevent each and every chance for the virus spread. If you are interested in knowing more hygiene tips be safe from coronavirus, Please visit our previous blog Cleaning companies in Dubai advises about to be safe from Coronavirus here.
Expert cleaning services for your home
In Home Maids, We are highly devoted to providing our valuable customers a wide range of house cleaning services Dubai for your home from the past 15 years. We are pioneered in providing well experienced and  qualified maids who are well skilled to perform residential and commercial cleaning. We are specialized in house cleaning, kitchen cleaning, window cleaning, laundry and ironing. Our diverse services include party helpers, office cleaning and pet care services.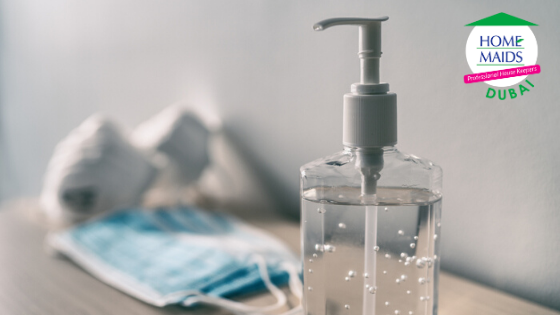 We are well planned and prepared to face and fight this communal virus spread. Our expert and trustworthy staff are the reason why we are maintaining a forefront position in the field of cleaning and maid services in Dubai and hence we make sure that each one of our staff is following a strict hygiene routine to avoid the spread of coronavirus. We value our great customers and we will make sure that we assist our valuable customers with timely cleaning service in this epidemic season to keep them protected from COVID-19. Let us together adopt healthy habits to prevent the dissemination of coronaviruses.  We know this outbreak can be concerning for our clients and their loved ones. If you have specific questions regarding the Home maids staff who are visiting you, please reach out to us at 8006243.