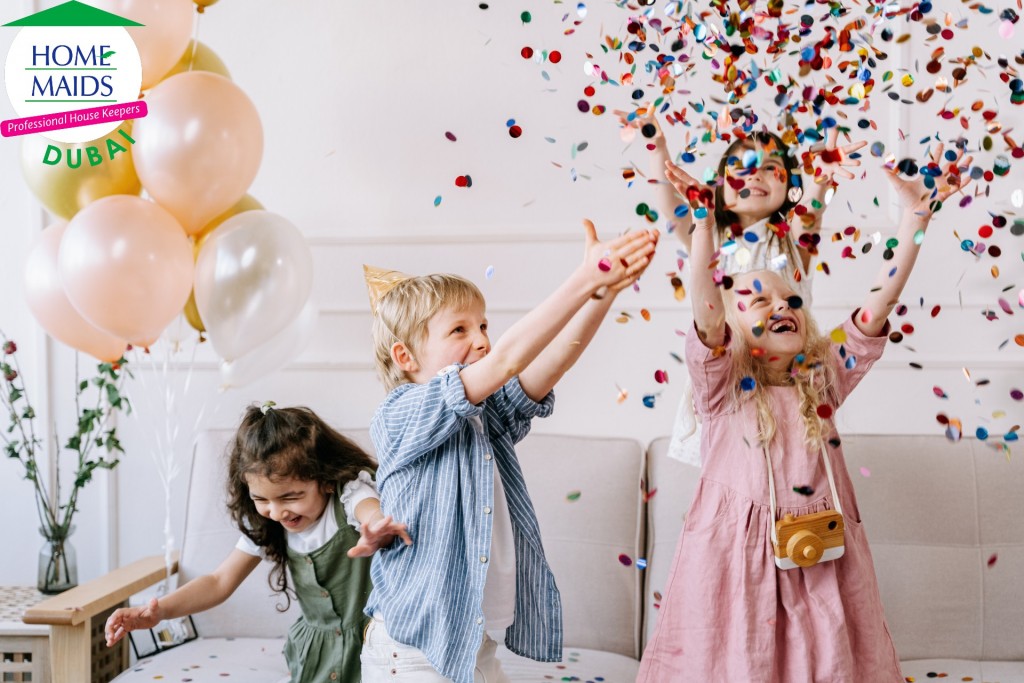 Introduction: 
Organizing an event in a place like Dubai can be a joyous experience due to the best moments it offers. However, it can also be a daunting task, especially when it comes to the aftermath cleaning, which can undoubtedly drain your energy. This is where party cleaning services come into play. In this blog post, we will explore how these dedicated professionals can assist you in saving both money and effort while ensuring that your event is a resounding success.
Importance of party helpers: 
Planning and organizing a party involves various tasks, from decorations to food and beverage arrangements to greeting your guests.
Party helpers can alleviate the burden by assisting with pre-party preparations. They can help set up the venue, arrange tables and chairs, decorate the space, and ensure everything is in order before your guests arrive.
By availing yourself of their expertise, you can save valuable time and focus on other essential aspects of party planning without much stress.
During the party, they ensure that all food and beverage supplies are refilled, so your guests don't encounter any problems. They also make sure your premises are kept clean and tidy if any spills happen during the party.
Stress-free cleanliness after the party.
After the party is over, the last thing we want to deal with is a chaotic and messy environment. Cleaning up our space after a party can be challenging due to a lack of energy.Homemaids the best cleaning agency in dubai come as your guardian angels in this situation, equipped with all the necessary training and equipment. They take care of all the cleaning tasks, from clearing up plates, empty glasses, and plastic bottles to ensuring that every nook and corner of your house is spotless.
By entrusting the cleaning process to professionals, you can relax and enjoy the aftermath of your party without worrying about the time-consuming and laborious cleanup.
Budget-friendly solutions 
Hiring party helpers may seem like an additional expense, but it can actually save you money in the long run. These professionals have the experience and knowledge to effectively optimize party resources.
They can guide you in choosing budget-friendly options for party supplies, decorations, and catering services, helping you make informed decisions based on their previous experience and training. Moreover, this also eliminates the need for purchasing cleaning equipment and supplies since they bring all the necessary items, allowing you to save on additional costs.
With their guidance and expertise, party helpers can assist you in hosting a memorable event within your desired budget, thus eliminating unnecessary expenses.
Party helpers are
experts
in time management 
Time management is the most important aspect when organizing a party, and party helpers excel in the art of efficient management. They are capable of accomplishing all tasks promptly, ensuring a successful event from beginning to end. 
Party helpers handle various responsibilities, such as setting up the party space, warmly greeting your guests, and efficiently managing the distribution of gifts. They keep track of the schedule, ensuring that everything runs smoothly and on time. Additionally, they take charge of serving food and beverages, guaranteeing that your guests are well taken care of.
Moreover, these professionals excel in timely cleanup. They swiftly and efficiently tidy up the venue, allowing you to fully enjoy the party and create cherished memories with your guests. With their expertise in time management, party helpers enable you to focus on the festivities while they handle the logistics with precision and efficiency.
Customized services to suit your needs.
Party helpers offer customized services in all areas to cater to the specific requirements of every party or event, ensuring its success.
Whether you need assistance with setup, managing the food supplies, or managing the guest list, these party helpers can adapt their services accordingly. They also ensure to provide only the necessary food items to your guests based on their preferences and needs.
Their flexibility guarantees that you receive the precise level of assistance you require, allowing you to personalize your party experience while saving effort and ensuring a seamless event.
Professional services that will provide you peace of mind.
These service providers offer their services in a highly professional and friendly manner, ensuring that you do not experience any stress throughout the entire duration of your event. All you need to do is book their services through their website, and they will be available for you at the designated time.
Home Maids: the best party helpers in Dubai 
We are the leading cleaning brand in Dubai, providing exceptional party helper services as well.
From pre-party preparations to seamless cleanup, our professionals bring their expertise, time management skills, and personalized services to make your party planning journey a breeze.
Embrace the true joy of hosting, and let our party helpers take care of the details, allowing you to fully enjoy the festivities with your guests without worrying about additional costs.
If you are interested in booking our party helpers, please contact us and explore our range of other services as well.