What are living rooms and its importance?
The living room is the room in which the homeowner and his family members gather around to spend some time together. Since the living room is meant as a place where people could have fun and engage in recreational activities. The living room is also the room where we welcome and entertain our guests. Since the living room is where we spend time with both our family members and acquaintances it is very important to keep it in a neat and pristine condition free of any clutter. Therefore, technically the living room should be clutter free, so we shouldn't keep the living room in a haphazard condition as it can create a bad impression in other's minds about us. However this is not the case as in most houses people are using their living room's for a wide variety of activities like sleeping, munching their favorite snacks when we watch TV, and in some occasion's to study or do our office work.
All these activities are more than enough to turn your living room into a big pile of mess made up of used clothes, office stationery, food bowls, etc.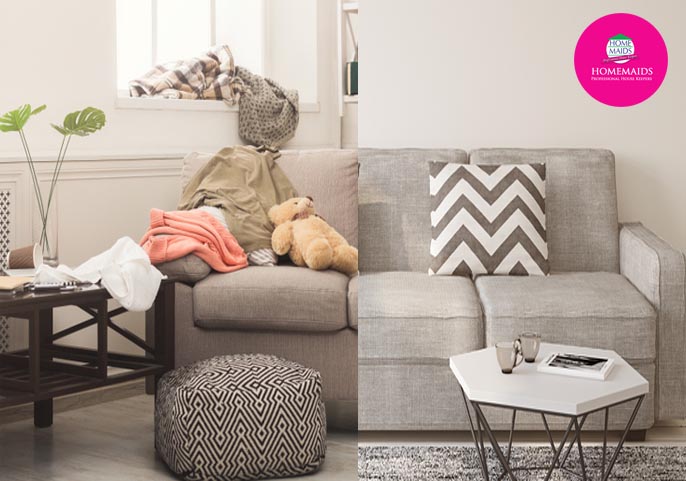 How to make the living room more livable
Creating order out of chaos is not a simple task and requires both good planning and implementation, our primary goal is to create a room where our family members and loved ones can sit comfortably and have fun. For those of you who have seen how the maids in Dubai function will know that they will only proceed with the cleaning activity after they make a thorough assessment. First of all, make a mental note of all the different objects which you can find around you and then decide whether they belong in the living room or somewhere else.
Like for an instance, your clothes should be neatly folded and kept in your wardrobe, not on top of your sofas or couches. After you have dealt with the unwanted objects in the living room next move to the cupboards and shelves. Dust the cupboards and shelves and after you have them dusted arrange the objects placed inside the cupboards and shelves in an increasing order this is the practice followed by the staffs of all cleaning companies in Dubai.
Now that you have finished arranging the items inside the cupboards and shelves you can proceed to arrange the newspapers and magazines which you have spread throughout the house. Arrange the newspapers and magazines in neat stacks and also on the basis of frequency of usage so you don't have to disturb the pile every time you want to take out your cooking magazine or auto magazine.
Make some room for the essentials
The best way to avoid your living room or any room in your house from turning into a claustrophobic place filled with unwanted things is to allocate either a separate room or spot in your home to pile up all the unwanted things. You have to be a bit creative when it comes to how you make use of the space after you pile up all the unwanted things divide them into 2 categories. This is also a practice adopted by most of the maid service companies in Dubai when dealing with such situations.
One group should consist of items you are not currently using but will definitely use in the near future like the old chandelier you got from your grandmother the study table from your school days etc. Such items hold lots of sweet memories for us and cannot be thrown away because these objects can be used again after a bit of work.
Another group will consist of things like our old VCR and it's a collection of old cassettes, in this age of digital media none of us will find it fascinating to watch movies in our old VCR. Objects like our old VCR, the stereo system from our parent's time may hold some values and sweet memories, however, to place them in our living room will kill the whole look and feel of the room.
At the same time if placed in the attic they will take up, therefore, much space in such case the best thing to do away with such items on a timely basis, therefore, you can place other essential items in the attic or basement.
Additional Add on's to your living room
Add attractive baskets in your living room decor, where you can put daily use items like a car, bike keys, etc. instead of leaving them here and there.
Buy furniture with built-in compartments, therefore, you can store some daily use items inside them for easy access.
You can include either a customized or DIY table which can also serve as a shelf in your living room.
You can take out your old cookie jars paint them and arrange them in an orderly manner on the shelves.
The cookie jars can serve the dual purpose of acting as a storage location to store necessary items and at the same time add some charm to your living room decor.
If you want any more of such inputs refer to the sites and blogs of popular house cleaning companies in Dubai.
What goes where in the living room?
This is a tough situation to deal with what item should go where in the living room, first of all, prepare a list of functions you want the room to perform. This is how personnel's in the Dubai house cleaning services deal with this situation.
An ideal living room should serve as a location for entertainment and recreational activities, therefore, it should house all components like TV's, entertainment systems, tables with built-in shelves, etc.
The TV- Similar to the popular quote "there should always be a stark in winter fell" there should be a TV in every living room it's something which we cannot avoid.
Store books, newspapers, magazines either on the shelves or inside the cupboard. Make it a point to fold the papers and magazines and keep them in their assigned places after you are done with them.
Toys and games-the living room is not just for adults to hang out it also belongs to the young ones.So place a few toys on the shelves where the kids can reach for them and play.
" Living rooms are no place for bed pillows" all of us like to sleep in the living room, after a tiring day at the office or school most of us will have the urge to lay on the couch and drift to sleep as we watch our favorite movies.
Afterward, we should make it a point to remove the pillows and sheets from the living room. The presence of bed sheets and pillows will kill the entire ambiance of the room
Now you must be having an idea of how you should maintain your living room follow these steps to have a neat and clutter-free environment where you can gather around and enjoy with their entire family.