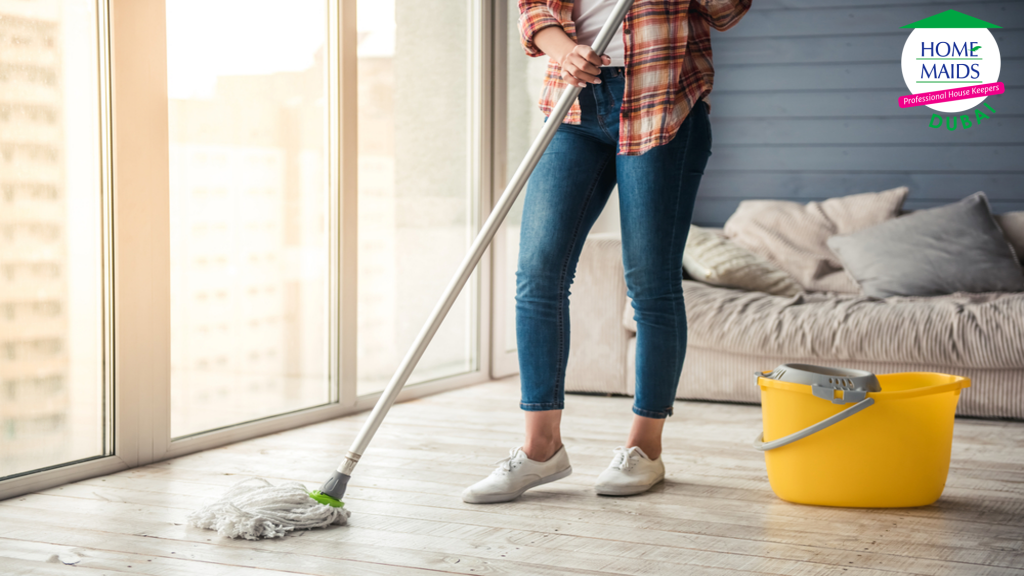 Do you think your living room needs a good cleaning session? Then read below to know the top cleaning ideas from the best home cleaning agency in Qatar to keep your living room looking it's absolute best.
The living room is one of the most accessed rooms in our house. As we spend more time in living rooms, they can quickly get disordered. Moreover, it is the spot in your home where you welcome your friends and family and enjoy relaxing chit chats.  As the living rooms are occupied the most, they can easily get messy due to frequent access and they deserve extra attention when it comes to cleaning.
Regularly treating your living room with some basic cleaning including vacuuming and keeping it organized can keep the living room neat, fresh, and inviting.
While we may be doing a lot to keep our living rooms look appealing and hardly we require more than maintenance. Here are the top tips from the best home cleaning agency in Dubai you wish you'll know earlier for an intense living room clean up – from dusting blinds to cleaning glass surfaces, light fixtures, wood furniture, and a lot more.
Deep Clean Blinds To Get Rid Of Dust And Debris
Looking for a way to clean dusty blinds? Here is what the Dubai house cleaning service suggests.  Open the blinds and use a duster to clean them from top to bottom. You can also use a microfiber cloth to wipe off the dust. Microfiber cloth catches more of the dust and dirt particles. If you are doing more than a single set of blinds, you can shake it outside to remove the dust.
If you have heavily soiled blinds, you can make your own cleaning solution to deep clean them. When cleaning a plastic or metal blind, you can use a mix of a few drops of dish-washing soap with a cup of white vinegar and warm water and use it as a bling cleaner. You can dip a sponge in this solution and wipe down each slat of the blind. After cleaning, you can air-dry the blinds.
Add Shine To Glass Table Top
Luckily, glass surfaces are easy to clean as they require minimum cleaning effort. When it comes to cleaning glass furniture, you can use a commercial glass cleaner or make a homemade cleaner. For preparing homemade glass cleaner, mix a cup of rubbing alcohol into one cup of water. Add a few drops of vinegar into the mix. Fill the solution in a spray bottle and your homemade glass cleaner is ready. Spray it over the glass surface and wipe down using a microfiber towel. Make sure you keep this solution away from the heat source as heat can make the solution flammable.
Clean Light Bulbs, Chandeliers, And Fixtures

Do you know that a dusty bulb can waste energy? As you don't have to clean your bulbs and fixture regularly, but cleaning them occasionally can make them look neat. When you are cleaning light bulbs, firstly remove them from the fixture and clean it with a microfiber cloth. Do not use any cleaning solutions or water as it can damage the bulb.
To clean the fixture, carefully remove the cover and immerse it into the soapy water and gently clean it.
When it comes to cleaning the chandeliers, you can use a duster brush to clean off the dust from chandeliers.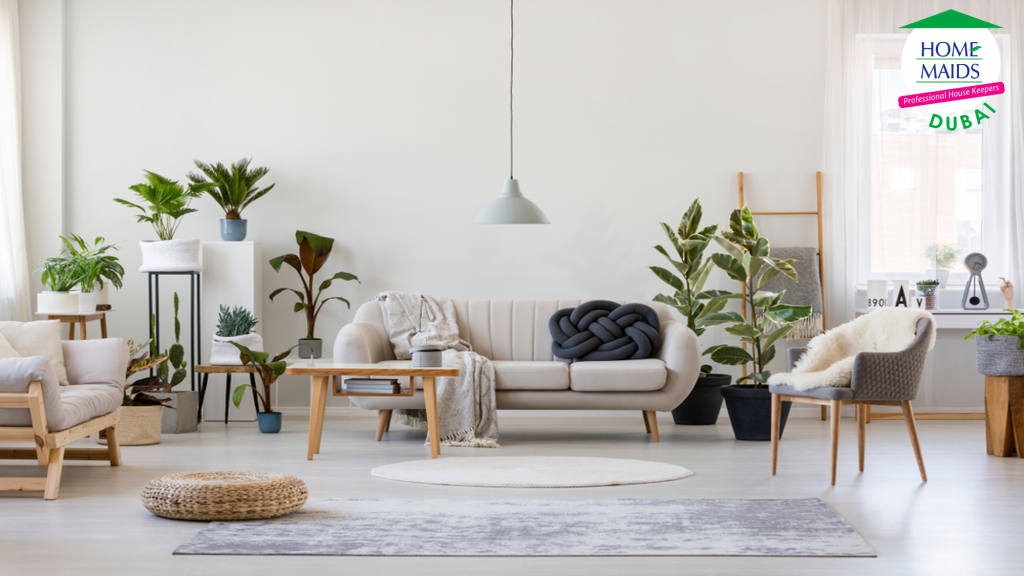 Clean Wooden Furniture And Upholstered Items
Upholstered items can easily catch dust and look dirtier. It is important to clean them at least once in two weeks. To clean upholstered items in your living room, you can use a damp microfiber cloth or a cleaning product specially designed to clean upholstered items.
To clean wooden furniture, you can use a damp cloth to gently wipe down the dirt. If there are any stains on the furniture, you can use a baby wipe or dish soap solution to blot the stains. For wooden furniture, use a suitable rejuvenator such as beeswax to add a lustrous shine.
 

Hire Professional Cleaners From Home Cleaning Agency In Dubai

Hiring professional cleaners ensures a high quality cleaning along with saving a lot of your cleaning time. After working hard all day, you can come back to a deeply cleaned fresh home and enjoy a relaxing time with your family and pets. Moreover, you don't have to occupy cleaning materials as professional cleaners have their supplies on hand. They have the right cleaning tool for the right task.  Also, professional cleaners have expertise in what they do. Want to know more reasons why you need a maid service in Dubai? Then, have a quick look at our previous blog by clicking the link: Top Reasons Why You Need Maid Services Dubai.

Hire trustworthy cleaners for your home and office from Home Maids, the best home cleaning agency in Dubai. We are a team of professional cleaners who are specialized in taking good care of your cleaning chores. Window cleaning, office cleaning, laundry – we do it all!