Keep your kitchen cabinets organized and clean by following these expert tips from the best house cleaning company in Dubai.
Do you find it too difficult to organize your kitchen counter? Some people have smaller kitchen counters whereas some have a larger space. The problem when it comes to a smaller kitchen counter is that you'll always spend time regretting that you can only keep very little utensils on it. For large kitchen cabinets, the problem is that they can easily get cluttered. 
Here are some of the quick tips by the best house cleaning company Dubai to keep your kitchen cabinets organized and decluttered.
Regardless of the size, there are many brilliant ways to eliminate the clutter in the kitchen cabinet and organize it to its fullest for a neater look.
Free Up Cabinet Space
People with tiny kitchen cabinets always worry about the lack of storage space. Here is what you can do if you have a smaller kitchen cabinet. Paper towels can take the entire space of your kitchen cabinet. Hence, it is better not to keep them in the cabinet. Instead, you can stash the tissues on top of your fridge. You can also fix a holder on the wall and hang the tissues on it. 
Keep sink and wash related items in the caddies. You can also utilize shelving to add a lot more organizational space which helps to free up counter space.
Invest In A Knife Holder
There are different types of knife holders available in the market. Magnetic knife racks are so popular as they can save a lot of space in your kitchen cabinet. These racks work great for small kitchen cabinets as they save a good amount of space. Moreover, they help to maintain food hygiene. 
Unlike the wooden blocks, magnetic racks keep the knives dry. The major disadvantage of using a wooden knife holder is that there is a chance for the knife to get food particles locked inside it which makes the wooden blocks a breeding place for germs. Additionally, magnetic knife racks require zero to minimum effort when it comes to cleaning. 
Use Storage Trays
Storage trays can really help to cut down the mess on your kitchen counter. Add some trays to your kitchen and designate them to keep different sorts of items. You can also use a cutlery tray to store cutlery items. As cutlery items are so sharp, keeping them in the cutlery tray allows you to separate sharp items isolated. 
Adding dividers in large storage trays helps to keep utensils separated. Instead of trays, you can also use storage stands and pull out shelves to store utensils. Thus, free up a lot of space on the kitchen cabinet.
Group Similar Items
House cleaning services in Dubai suggest to group similar items and designate a portion of the counter to keep those items. You may have certain items that need a space on the kitchen cabinets. Those so-called "essentials" have to be kept on the cabinet itself. Use serving trays or cutting boards to keep tiny items and small kitchen tools, spices, or cooking oil. If you use trays to keep small things in place, they can set boundaries so that things won't go out of the boundary. It will create a more cohesive structure and thus, keeping things in place without creating clutter in your kitchen cabinets.
Read Also: Living Room Cleaning Tips By Best Home Cleaning Agency In Dubai
Extend the Storage Possibilities
If you have a limited cabinet space, instead of utilizing more than maximum space of storage areas, you can find some amazing areas in your kitchen to keep things organized. You can make the kitchen drawers more useful by extending their storage possibilities. simply fix a utensil holder on the side of your drawer. Hanging utensils on these areas will eliminate a lot of clutter on the kitchen cabinet space. These easy to grab spaces are the best location to hand utensils, spoons, or even kitchen towels. You can grab them anytime when you need them.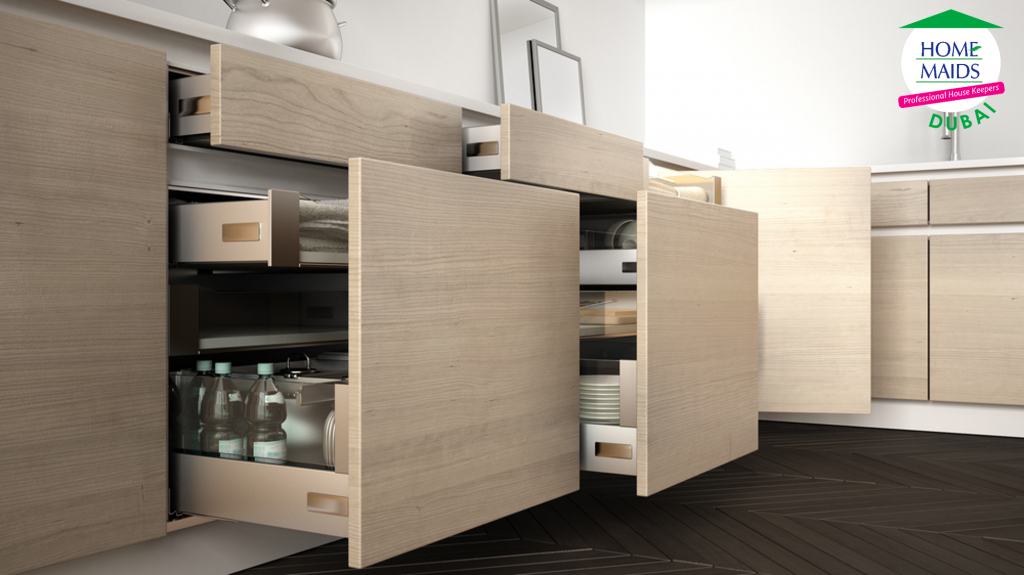 It's Time To Banish The Unwanted
It is a good practice to do a quick check on the kitchen counter at least once a month to find if you have any unwanted items placed on the kitchen cabinet. There may be a lot of items on the kitchen cabinet that you do not use regularly or not at all used in your lifetime. For example, those cookbooks you have used once or maybe twice for your cooking experiments. Take all of these items out from the cabinet and keep them in the drawers or shelves. Thus you can free up the cabinet space.
Hire Kitchen Cleaners From The Best House Cleaning Company In Dubai
The kitchen is that place where you cook hygienic food for your family members and hence, it needs to be regularly cleaned. Home Maids, one of the best house cleaning companies in Dubai provides expert kitchen cleaners to take care of your kitchen cleaning chores. Our maids are experts in cleaning and they will deep clean every unnoticed corner of your kitchen to keep it clean and germ-free.