"Business thrives in a neat environment"
A clean space is where both order and harmony thrives, it's a kind of environment that can stimulate the workers to think outside the box and come up with creative and critical solutions to tackle the various challenges an enterprise faces on a daily basis.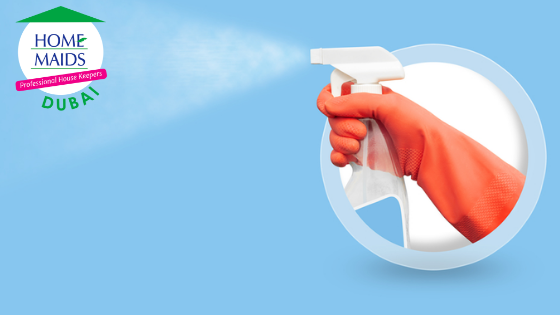 How Abdul lost the big contract
Abdul is your average businessman and he runs a small, but successful accounting firm in Dubai with a small workforce consisting of 10 employees. Abdul is very dedicated when it comes to his work, and he never fails to meet his client's expectation. All of us have shortcoming's, Abdul's shortcoming was that he didn't know about the importance of maintaining a neat and clean working environment so he never instructed his employees to keep the office neat and clean or hire a maid service in Dubai to take care of his office. This lax attitude towards cleaning cost Abdul a big contract. One day Abdul was in the midst of securing a huge new business deal, a tender to handle the account of a British Oil company.
Things were proceeding smoothly till one day an executive from the company's Finance department dropped in by their office unannounced. The executive was not happy about the dismal state in which Abdul kept the office and asked him how they can expect him to perform audit services for a big company like theirs if they can't even maintain their office in a neat and organized manner and he lost the contract. Realizing his mistake Abdul searched the web for a cleaning company in Dubai who offer office cleaning solutions and came across the website of Home maids Dubai.
After he browsed through the Home maids Dubai website and checked their online reviews he decided to book their services. He booked for the services of an hourly maid from home maids the very next day itself.The next day at the exact time a maid from home maids came with all the necessary office cleaning gears, as soon as she came she greeted Abdul and started her work.
She cleaned the workstations, dusted all the computers, mopped the floors, cleaned the toilets after she was done Abdul could barely recognize the place. Abdul was impressed with the services of the hourly maid therefore, he gave her a handsome tip and decided to hire the services of an hourly maid weekly to his office. Thereafter Abdul convinced the oil company to give him a second chance they paid him a second visit they were impressed with how he had maintained his office and gave the tender to Abdul after he delivered them a stunning presentation.
Create a checklist first
Before we begin anything it's important that we create a plan, so we don't end up doing anything unnecessary, therefore, when it comes to office cleaning it's important that you create a checklist first. The checklist will include a list of important things you want to get cleaned around in your office. Your checklist can include everything from your office keyboards to your shelves after you have your list prepared hand over the list to the hourly maid from maid services who arrive to clean up your office.
Have everything organized
Before you get into cleaning you should organize everything around in your office. Getting your office cleaned is something you can outsource to maid service in Dubai, but to keep your office in an organized manner is something you can achieve only with your employee's cooperation. Ask your employees to throw away their garbage into the dustbin itself, avoid eating their lunch and snacks in the work station, keep the chairs and tables in their proper places after their use.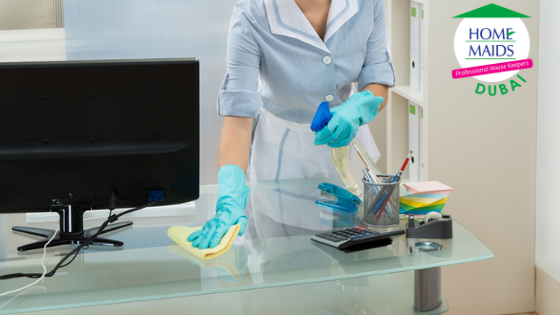 If your employees were to follow these simple instructions you can convert your office into a more organized workplace.
What maid services in Dubai wants you to include in the checklist
Make sure the paper stays inside the cabin
The first thing in your checklist should be "organized paperwork", you cannot expect people to take you seriously if you have an office where paperwork is piled up everywhere. The solution to this is simple just install some filing cabinets, wall pockets and desk trays around your office. After you have the cabinets and desk trays fitted, instruct your employees to place all paper documents inside the cabinets/shelves in a neat and organized manner.
This is one of those things you can do without hiring hourly maids.
Keep the premises clean
After you deal with the paperwork clutter in your office, It doesn't matter whether you are involved in the service industry or manufacturing it's imperative that you keep your premises in a neat and clean manner. When a client approaches you to provide a service or a product they expect you to deliver your best work. It takes more than a brilliant proposal to win a business deal, you have to convince the client that you are the best person to get this job done. This is why it's important for you to maintain a neat and clean office environment, this is something you can only achieve with the help of maid services in Dubai who provide office cleaning.
Keeping the workstations clean
Keeping the work stations free of junk is something you can instruct your employees to do, but in order to keep your workstations free of any dusts, you will have to hire the services of a cleaning company in Dubai who provide office cleaning services. Your employees can only do their best job when they are sitting in a productive environment which is free from both germs and dusts.
Disinfecting the bathrooms
You cannot have a healthy and productive work environment by having a dirty bathroom. With a dirty bathroom, you increase the chances of your employees coming in contact with various infectious diseases which in turn will affect their productivity. The maintenance of neat and clean bathrooms is something that requires 50:50 efforts, the first 50 is in your employee's hands, instruct them to flush the toilets after every use with that itself half of the trouble created by a dirty bathroom can be solved. The rest of the 50 is in your hands, just hire the services of a cleaning company in Dubai like our Home maids to do the rest and you will have a bathroom which is dirt free and disinfected in no time.
Regularly maintain the electronic equipment's 
Electronic equipment's have an affinity for attracting dust, from your monitors to your keyboards every single electronic equipment in your office is prone to attract dust. As your equipment's gets filled with dust you increase the chances of your employees coming across diseases like asthma, bronchitis, dust allergies, etc.
You can avoid all this by simply hiring the service of a cleaning company in Dubai who provide office cleaning. The maids along with their mini vacuums can suck in all the dirt and debris from your equipment's.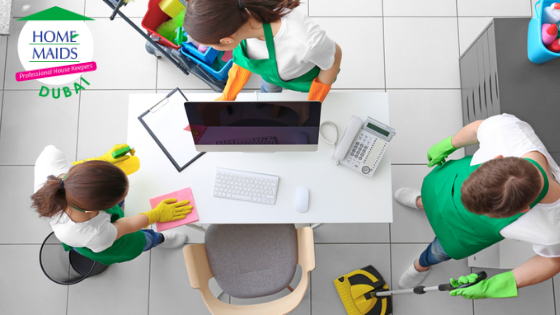 Maintain your snack room
The pantry room or the snack room is where your employees could hang out and relax during their office break and lunch hours. You have to maintain the pantry or snack room of your office in a neat and clean manner as this is the place where people eat their food, therefore, it's very important that you have the room maintained in a neat and clean manner. Ask your employees to put in their food leftovers inside the waste bin and all you have to do is hire the services of a maid services in Dubai who employ the services of hourly maids to take care of the rest.
Since you have gone through the contents of the blog post you must be aware of the importance of maintaining a clean office. You can maintain a clean office by following the 80/20 rule, the 20 percent is in the hands of your employees, give them certain guidelines and instructions on how they should maintain their workstations and office premises and you will have 20 percent of the mess taken care off.
If your employees were to follow the things we have specified in the above mentioned checklist, you will be able to see visible changes for the rest 80 percent you should hire the services of a professional maid services in Dubai like ours.