Why should you hire a laundry service from a best cleaning services in Dubai when you can just buy a washing machine and dump your clothes in it every weekend? Sounds simple enough, especially considering the fact that you could just sit at home and relax while your clothes washed in the laundry room. Come to think of it, why even have a washing machine at home when you can hire a maid service in Dubai to do the washing for you? You could sit at home and relax, while your maids work their magic.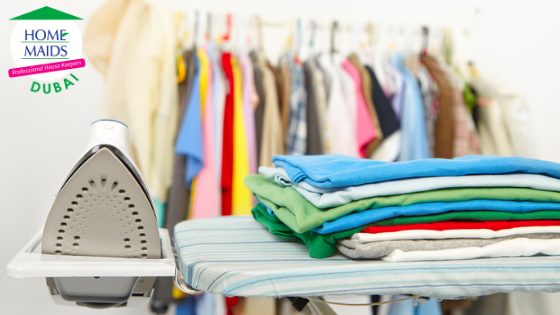 But we suggest you find a good laundry service for all your laundry needs. Why? It's easier, more convenient, and affordable service that takes care of all your dirty clothes better than you.
Ease of service:
Laundry services have evolved quite a bit from the bustling laundromats on the corner street where you drop off your messy clothes and call it a day. Laundry cleaning services in Dubai have integrated pickup and delivery of laundry on mobile platforms where you could book services at your leisure. A boring chore that takes an average of 2 hours can now be delegated to an affordable, dependable and hassle-free laundry cleaning service in Dubai. 
Online Booking:
Laundry service can be booked on apps, sharing your location so that your clothes can be picked up when you need them cleaned. Clothes are packed in individually tagged bags and sent in for cleaning. Services may also send real-time updates of your laundry to let you know about the status of your clothes. You can even set the delivery time for when you can collect your fresh laundry, or have it delivered to your doorstep. Express delivery service by most laundry cleaning services in Dubai ensures that your clothes are returned to you within 24 hours. 
Reliable service:
The processing and handling operations in modern laundry services can support any reusable clothing items. This means that unlike washing clothes on your own where you only have yourself to blame if anything goes wrong, laundry cleaning services ensure that your clothes are cleaner than clean, and provide guarantees against accidental damage to your clothes. 
Your clothes get a professional touch:
Remember those handy stain-removing tips you found online? Well, you wouldn't want to try out those handy tips on your designer clothes next time you get some wine on them, would you? This is why you look for professional maids cleaning services who care for your clothes as if they were brand-new. The services provided range from washing and tumble drying, dry cleaning and ironing, as well as intensive cleaning for bedspreads and curtains. Cleaning services in Dubai focus on using eco-friendly solutions to disinfect and clean your clothes without damaging the fabric.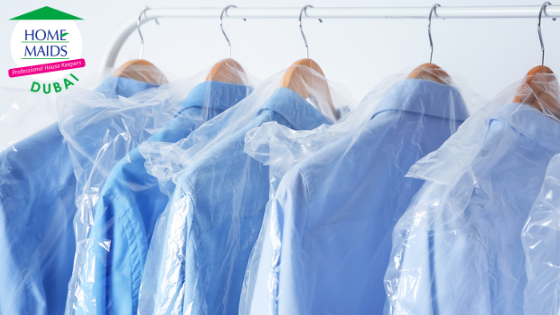 Laundry services also take special care in washing clothes and take extra caution when drying clothes to make sure every fabric is dried according to their type without harming the material or tainting their color.
Specialized washing for all your needs:
Laundry cleaning services in Dubai are committed to using cutting edge technology in the laundry service with the most advanced cleaning solution, allowing us to achieve top-notch quality and care of your clothes.
Wash:
Laundry cleaners inspect each item for its fabric material as well as the manufacturer's instructions on cleaning. Unless specified otherwise, all items of clothing are washed by default. Each garment is cleaned thoroughly, with expert inspection of the material followed by intensive cleaning to remove dirt and stains.finally, the clothes are processed and disinfected, followed by a starching process to maintain stiffness and rigidity.
Ironing:
Your wrinkly clothes require expert ironing to make them look brand-new. At home, this would take an insane amount of time even if you hired professional maids in Dubai. Laundry services handle everything from cotton trousers and shirts to jackets and suits and iron them according to their specific needs. These are then custom folded with utmost care in the right manner.
Dry cleaning:
When clothes are brought in individually tagged bags, they are further sorted to separate the whites and colors before being dry-cleaned so as to prevent any discoloration during the process. Laundry staff is especially careful to dry fabric according to their specific requirements without harming them so that they will be delivered in better condition than when they were brought in.

Cost-effective cleaning method:

You would assume cleaning your own clothes would cost less, even if it means having to set aside leisure time to operate the wash cycles, even if you own an automatic washing machine. Having a laundry room in your apartment building would mean you wouldn't even need to buy a machine of your own. Superficially, this comes at a negligible cost, aside from time issues. But then, you would need to factor the cost of electricity and water used, as well as establishment charges in the case of building-owned laundry machines. Laundry cleaning services in Dubai take care of all your laundry needs at a lower cost. Delivering the best quality service, saving your time and money is in their best interests.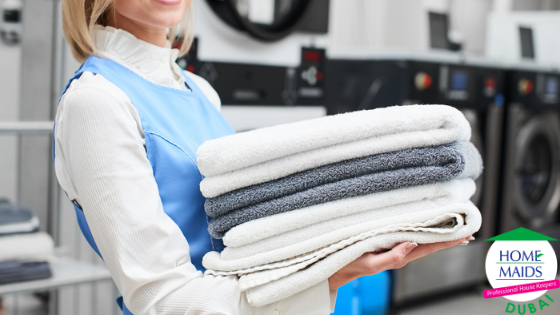 Hire the best for your clothes:
A perfect home needs clean and fresh laundry to go with it. In the busy shuttling between home and work, you might not find the time to decide between maids services and laundry services in Dubai. Rest assured that the hardest part of the process is finding a company suited to your specific laundry needs. Give yourself a break and forget the worry of your dirty laundry when choosing Home Maids Dubai - your trusted service for all your cleaning problems. 

With the best laundry cleaning service in Dubai, you will never have to worry about finding time for your clothes again. We specialize in express laundry service – providing affordable luxury with convenience. We are dedicated to performing beyond your expectations, delivering only the best laundry services for our clients at the best rates.