Learn how to organize your cookbooks without cluttering your kitchen by following these amazing storage ideas by the top maid company Dubai.
Cookbooks bring confidence and comfort to your cooking experiments. You may not need them every day or may have a lot of cookbooks that are still to explore. 
Unfortunately, your devoted cookbooks can mess up your kitchen as they catch up almost the entire space of your kitchen and sometimes it extends to other areas in your home too. Here is the rescuer. You may want to lend some of these amazing cookbooks storage ideas by the leading maid company Dubai.
Wire Basket Shelves
Use wire baskets as wall shelves where you can store your cookbooks by their priority. As wire baskets are lighter in size compared to solid shelves, they bring an amazing option to organize your cookbooks. There are many types of mesh baskets available in the market which you can simply mount on the kitchen wall.
Another advantage is that wire baskets keep your cookbooks visible from the outside so you can grab them whenever you need them without messing things up. They will store your cookbooks in place without adding much to your shelf. Also, they can keep things organized for a longer time.
Built-in Cabinets
Built-in kitchen cabinets are the #2 rescuer according to house cleaning experts from leading maid company Dubai. They are the best space saver option you can choose and an amazing storage solution where you can efficiently store a lot of things including your favorite cookbooks. And this is one of the main reasons why experts from the leading maid company Dubai suggests investing in built-in cabinets. 
With having these built-in storage cupboards, you can say goodbye to the additional stress of cleaning heavy pieces of furniture. Since the cupboards can easily fit into the kitchen walls, you can easily keep your cookbooks without creating clutter in the kitchen. Apart from these qualities, customizable kitchen cupboards can be matched with the color theme and style of your kitchen.
Showcase your cookbooks
You may have a lot of cookbooks with beautiful covers. Why can't you just showcase them instead of hiding them in a corner of your kitchen? – asks home cleaning professionals from the leading maid company Dubai. 
If you have cookbooks with some presentable covers, display them as beautiful wall pieces in your kitchen. Picture shelves serve as an amazing attention-seeking area in your kitchen as they reduce the attention that goes to other messy parts of your kitchen. 
Besides, the magazine artworks create bright and positive energy in your kitchen. Whether it's big or small, create a cookbook art in your kitchen and see the difference.
Utilize a hidden storage
Hidden drawers are the next storage option from the list. This option is for the cookbooks you would like to store in an invisible corner. Do you have a lot of cookbooks that you don't know what to do with? 
You may still want to keep them. In that case, find hidden storage space in the kitchen, maybe the closed space underneath, or some hidden drawers or a storage rack in which the things which are kept inside cannot be viewed from outside. You can keep the cookbooks that you don't use less frequently and still you might want to store them for later use.
Keep your cookbooks color coordinated
This is another organizing technique recommended by house cleaning experts from the leady company Dubai. Color coding your cookbooks also focuses on creating artwork using cookbooks and thus, creating an undeniable beautiful space in your kitchen.
Color coding is an easy organization technique in which you can easily organize your cookbooks depending on the color of their cover. This is a technique that focuses more on aesthetics.
Keeping the cookbooks in a color-coded way encourages you to put your cookbooks back to the shelf after the use. It will also keep the shelf more appealing.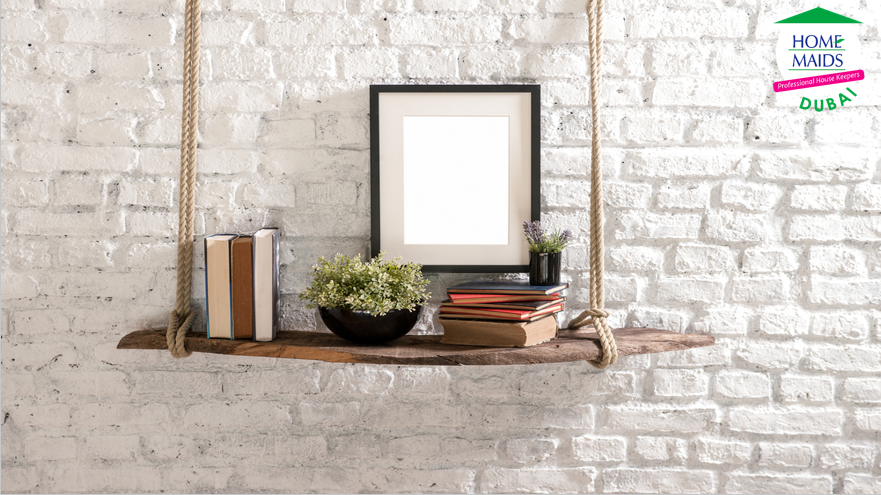 Use Ledge Shelving
Do you have a large wall in your kitchen? If you have a space like that, fix a set of ledge shelves for showcasing your cookbooks. Ledge shelving can be an interesting centerpiece where you can beautifully display your cookbooks, says house cleaning experts from leading maid company Dubai. Ledge shelving is a very useful way to organize your cookbooks. 
Usually, ledge shelving is used for displaying picture frames or artworks. These shelves can transform any unused space in your kitchen into a space adorned with style. Firstly, they enhance your space and secondly, optimize storage, and most importantly, they save your cookbooks from creating clutter.
Read Also: Tips To Organize Kitchen Counters By Best House Cleaning Company In Dubai
Corner Organizers
If your kitchen is filled with cookbooks, it can look so messy and cluttered. The best thing to organize your cookbooks is by utilizing corner space to keep them without cluttering up the entire kitchen space. A corner cookbook shelf in the kitchen can be the perfect accessory to fill your kitchen with a sense of creativity. You can easily organize cookbooks of different sizes with easy access. There are different types and sizes of corner shelves that are available in the market. You can choose one that fits well with your style and spacing option.
Hire Experts From the Leading Maid Company Dubai 
Do you get so overwhelmed that you can't keep up with cleaning chores? Don't worry, we got you covered! Home Maids, the leading maid company Dubai provides professional cleaning experts for house cleaning Dubai. 
Our cleaners take care of all kinds of cleaning chores. Whether it can be window cleaning, kitchen cleaning, or office cleaning, our experts know how to take care of all those with ease. So book your maids right away for house cleaning Dubai, and give farewell to cleaning stress.