Cleanup after cooking is a tough and frustrating job for almost all of us. Here are the top 7 cooking cleanup ideas by top Home maids Dubai. 
Cooking is nothing but creating magic in the kitchen. Is cooking good for your health?
Yes, It is! Cooking brings you a lot of emotional and mental health benefits – Cooking relieves stress and it creates a positive mood and keeps you relaxed. It improves your self-admiration and boosts your confidence. Cooking with someone improves your bonding and results in good, deep-rooted relationships.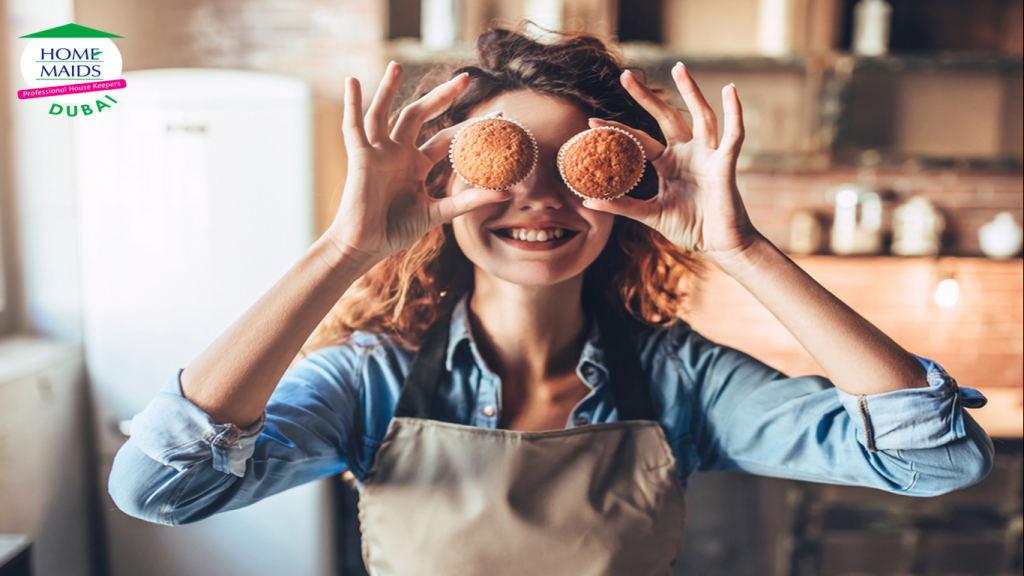 Surprising our little ones with their favorite dishes are something every mom's love to do. But, right after cooking, there is something most people are scared of – a messed up kitchen cabinet and a lot of dishes to clean. Cooking cleanup is a strenuous thing to do if you are not following the right cleaning practices – says, experts from Home maids Dubai.
But, what are these right cleaning practices? They are some easy but thoughtful tips one should follow while cooking to save a lot of your after cooking cleanup time. These tips are proven and they work really well and make your cooking clean up go easy.
Tip 1: Ensure a clean kitchen before you start cooking
Home maids Dubai advises to ensure a clean kitchen before you start cooking. Start off with a clean kitchen. 
A clean kitchen automatically forces you to keep things in place. If your kitchen is clean when you start your cooking, it will be easy for you to spot your kitchen essentials and accessories. 
You know where the knives are, where your spoons set is, and thus, you can easily access your kitchen tools. A clean kitchen also reduces a lot of mess-ups as you will feel like keeping the tools back in place.
Tip 2: Keep a trash can nearby
Keeping a garbage bowl or a trash can helps to clear off the junks or the scraps in no time and keeps your kitchen cabinet looking clean all the time. 
Your prep station will look neat and clean if you keep garbage trash nearby you, says our best home maids Dubai. 
A trash can near the cooking area also saves some of your time as you don't have to go back and forth to your garbage disposal. A trash can near your prep station keeps your prep station neat, reduces the spills, and also cuts down your cleaning time.
Tip 3: Prepare a dish-soak in for your dirty dishes
If your used food bowls or dishes are simply kept aside until you're done with the cooking, there is a high chance for the food inside the unwashed dishes to become hard or the surface gets dried off. Such dishes are very difficult to clean. 
If you have an area such as your sink to just soak in these dirty dishes in the soap solution. It will keep food items away from drying on to the surface of your food bowls and you can easily clean them off in the future. 
Do not immediately soak your pan or any vessels directly from the stove. Give it some time so that it cools down and once it becomes cooler, you can keep soaking them.
Tip 4: Bring order to your preparation list
Put on your apron, it's time to actually start your cooking. The first thing you need to do is to order your prep list. Home maids Dubai recommends working on your dry ingredients before you deal with wet ingredients. 
You can measure your spices or flour or whatever dry items you have before you start working on milk or sauces etc. Another tip by home maids Dubai is to work on your veggies before you start working on meat or egg. 
This will reduce the in-between cleaning sessions needed, for example deeply washing your cutting boards and kitchen bowls after you cut meat to use it for your veggies. Reverse process will definitely save some cleaning time 
Tip 5: Organize your prep bowls
After ordering your prep list, the next set is to transfer the items into prep bowls.
According to home maids Dubai, if you've dry items with smaller quantities like spices, then you can keep all of these items in the same bowl by keeping a little distance. The same can be done with vegetables too. This will help to reduce the number of bowls you will have to clean in the future. 
Once you use the items in the prep bowls, wash them and keep them back to where they belong. Thus you can lessen down the number of dishes you'll have to clean after cooking.
Tip 6: Clear things right away
This is in fact one of the best time-saving tips by home maids Dubai. As we've mentioned in the previous step, cleaning things right after their use reduces a lot of messes after cooking and it will ease your cooking clean up to a great extent.  
A sink full of vessels to be washed makes you stressed and frustrated at the same time. If you clean the dishes right after their use, then there won't be any mess-ups in your kitchen. It also keeps you stress-free. 
After cutting and chopping vegetables, you can clean up the kitchen cabinet and give a wipe to the cabinet. After using prep bowls, wash them right away. After cooking, just clear off the spills and soak the pans from drying up.
Tip 7: The final touch – cleaning up at the end
As a final step, wash off all the soaked in pans and dishes. Make sure that you keep all the tools back in place and now garnish your dish and surprise your dear ones with the yummy dish you've just now prepared, without the stress of having a messed up kitchen waiting for you.
Experts For Your Cleaning Chores
In our busy lives, most of us won't get enough time to take care of our cleaning chores. When you find time for your cleaning chores, you may have to sacrifice some valuable time to spend with your family or some quality time you can spend for yourself.
It's time for you to sit back and leave your cleaning chores on Home maids Dubai. We're one of the leading maid services in Dubai. At Home maids Dubai, we provide the best cleaning maids who are well experienced in house cleaning, office cleaning, pet care, laundry, and ironing.
So hire the best home maids in Dubai and relax!