It is that time of the year again and you start packing the essentials for the holidays. It doesn't matter how long you will be gone – leaving the house for more than a day means cleaning up and organizing everything so that you have one less thing to worry about while on vacation. Because as much as you want to get away from home during the vacation, you'll miss it as soon as you step out.
So here are some of the things we thought you could go over before leaving home for the vacation. Some of these are pretty obvious, yet many of us would not think twice of it while we are busy packing and being excited about the trip. So grab a notepad and make a checklist before you start reading.
General Tips
While packing for the vacation, keep all packing activities restricted to one room so that your home stays more organized before you leave.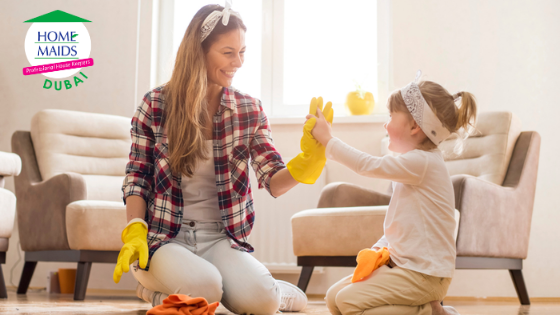 Fasten all windows, as well as individual doors in your home. This ensures that any eventuality – whether a fire or burglary – is restricted to individual sections of your home.
Check the fire suppressant system and replace the smoke detector batteries as an extra precaution.
While you're packing, it would be a good idea to hire a maid service in Dubai to clean your home and keep it organized.
The Kitchen
Since no one will be around to cook or clean, the kitchen needs to be wiped down thoroughly to ensure no pests take over during your absence. Kitchen cabinets that store cutlery and dishes, as well as storable food materials, need to be specially secured to prevent any contamination. Also, clear out all trash cans so that any garbage does not sit rotting while you are away. Cleaning maids in Dubai can help lock down your kitchen so that it remains pristine when you get back.
Refrigerator
Food inside your refrigerator would probably go bad before you get back. Unless you are planning a pre-vacation party, clear out all perishable food items. If there are no storable food items in the refrigerator, go an extra step and clean it all out. This frees up the refrigerator so that you can power it off over the vacation. Also, you would have more space when you get back.
Garbage Disposal
Any food bits that remain in the garbage disposal would not be swept away while you are gone, and would start stinking in a while. Pour a solution of vinegar down the sink and rinse it with some cold water to remove any food bits.
Electrical Appliances
Appliances that remain plugged in for a long time are at risk of overheating or even causing short circuit fires. This is even more of a problem when you are not around to keep track of these appliances. Switch off all non-essential electrical appliances and unplug them before leaving your home.
The air-conditioning system needs to be running to ensure that the temperature inside the home is sufficiently cool and hospitable. Too warm and pests can come inside; too cold and you would have moisture damage on your walls and floors. Set the temperature to a level closely matching the outside conditions, ensuring an optimum condition inside your home while you are away.
Plumbing
Turn off the water mains inside your home before you leave. This way, there is no possibility that any leaky faucets would run off and flood your home. Get maid services in Dubai to clean out your bathroom floors and walls, as well as kitchen sink cabinets so that they don't develop moisture damage while you are away.
For homes that have lawns and shrubbery outside their homes, daily watering is an issue while on vacation. This can easily be solved if you have automated sprinklers that start at pre-set times, requiring no action on your part. If not, you could have a drip-irrigation setup that keeps watering your lawn constantly, without wasting any water.
Security Precautions
Vacations can be stressful not just because of the anxieties of traveling, but also the fact that your home is left unsupervised until you return. Burglary is not uncommon in the UAE, and perpetrators tend to keep a watch on unattended homes during the vacation. The best measure against the threat of burglary is to make your home appear lived-in while you are gone. This can sound like an impossible task, but with a few handy tips, your house would appear unoccupied for any casual observers.
Mail and Newspaper
If you have a daily newspaper subscription, don't cancel the delivery during the vacations. A lack of newspaper delivery can signal an empty home as much as an undisturbed pile of delivered newspapers in front of your home. Assign a neighbor or a friend to collect your newspapers and mail daily. Also, ask them to park their vehicle in your driveway once in a while, so that it doesn't appear vacant.
Lighting
It would be a good idea to have automated lighting that you can control while you are away. Maid services in Dubai recommend using smart lights that automatically switch on after sundown, signaling activity inside your home. In fact, with the home automation technology right now, you can synchronize different rooms to light up at different times, or even have the multimedia system play some tunes to make it seem like your home is occupied.
Prepare for homecoming
The first thing you notice when stepping inside your home after vacations would be the smell. Even with the air conditioning, a general lack of movement inside your home leaves the air dank and stagnant. Hire professional cleaning maids in Dubai to give a once-over for your furniture, so that they don't give off any stale smells. And before you leave, leave a bowl of warm water with a slice of lemon and some crushed flowers to give off a pleasant aroma. So when you get back home, there would be a welcoming air all around.
Call in the professional maid services in Dubai
Planning your vacation can be tough enough without the added worry of cleaning your home before you leave. You can always find good maid services in Dubai to take this off your hands. But with all these cleaning companies on there, you will naturally be worried about finding one suited for your needs in time.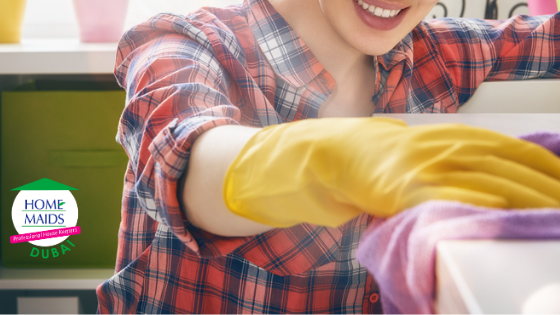 Worry no more. When you choose Home Maids for your home cleaning, we make every effort to ensure that your house sparkles when our service is completed. We provide exceptional cleaning for our clients at affordable prices, so you don't have to worry about spending too much on cleaning – enjoy your vacation!