Weekends are meant to be relaxing and enjoyable but, at times weekends may be chosen for home cleaning and they can be the perfect time for cleaning chores. Some people end up using the whole weekend for cleaning and that's one of the main reasons most people hate to do cleaning during weekends. Here is your step by step guide for your weekend cleaning. To make cleaning easier and quicker, follow these step by step guides from top cleaning maids Dubai for an effective weekend cleaning which will reduce cleaning time and a lot of your effort.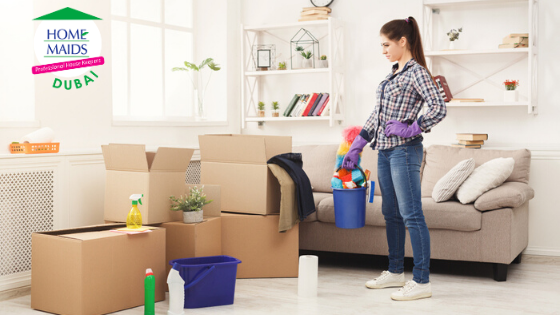 Dusting, vacuuming and Mopping:

Dusting is important to clear off all the dust and debris from your home. Focus on furnitures, underneath furnitures, corners and tv screens, glass tops etc while you dust aas these are the key areas that need dusting. Cover your mouth and nose while the dusting process to avoid any dust particles enter inside your body. Elederly people and children catch allergens fast and hence dusting helps to keep your house allergen-free. You can use a vacuum cleaner to clear off all the debris, pet hairs, cobwebs etc underneath the furniture, walls and other corners. Cleaning maids Dubai follow dusting, vacuuming and mopping. Regular mopping helps to sanitize your flooring and also it will minimize allergies and give a sparkle to your floor.
Speed clean your bedrooms:

Grab a trash bag quickly and fill in the unwanted items to it. Vacuum the walls and corners to remove all the debris. Declutter the bedroom, keep your bed clean and keep things in place. Take the bedspread and keep it for laundry and use a new bedspread. Remove the curtains for a quick wash. Wipe the dressing table and mirror. Use a microfiber towel to wipe the furniture. Home cleaners Dubai recommends to mop the floor as it will make the floor fresh, remove dirts, kill germs and keep it shinier for a longer time.
Work on laundry:

Now it's time for laundry. Powdered detergents work well for heavy loads of clothes. You can also use liquid detergents in case the clothes are stained. You can rub the stained area with some liquid detergent and keep it for laundry. You can also give a wipe to the laundry basket to remove dirt from the laundry basket and keep it fresh. Make sure you separate bleeding coloured clothes from other clothes to prevent color stains. Wash your white clothes separately as this will keep white dresses looking brighter and not getting dull for a longer period.
Clean your kitchen in less time:

Use a cleaning sponge to give a quick wipe to your kitchen cabinets and stove tops. Give a wipe from top to bottom of the cabinet. Use a scrubbing brush to scrub and clean the sink. It will remove all the dirts and stains away from the sink and make it clean. Clear all the clutters and wash all the dirty dishes and wipe them. Now, gently wipe the microwave to clean it. Hot water run in the dishwasher will help to give it a self clean. Now mop the kitchen floor to remove all the dirt.
Clean the trash bins: 

Clean your trash bins regularly to prevent the growth of germs. It will help to eliminate foul smell from rotten food and other items. Clean trash regularly will keep diseases away by killing bacterias such as E-Coli. It is important to disinfect and sanitize the trash bins to kill all the viruses and bacterias. You can add some baking soda and a few drops of lime juice to scrub the trash can to remove all the bad odours from the trash bins. We know that flies will get easily attracted to food waste and other wastes and unclean trash can be the meeting point of different types of house flies.  A clean trash bin can keep house flies and maggots away.
Clean the bathroom

: Give a quick clean to the bathroom to make it germ free. We know that bathrooms are the favorite place for different kinds of germs including bacterias and viruses. Gently wipe down the mirrors and the shower head. You can use a few drops of vinegar added in a cup of water to wipe the windows or blinds to add an instant shine to the windows. Remove the bathroom curtains for laundry. Give a slight scrub to your porcelain accessories and wash it using plain water. Cleaning the bathroom will keep germs away along with keeping bathrooms fresh, odour free and more shinier.
Give a quick makeover to your home:

You need to give a final touch to your home before you finish cleaning. Make sure you give a quick makeover to your rooms by simply repositioning your furniture. Bring some indoor plants inside your room to add life to your rooms. Change your window curtains and use some natural room fresheners that open your senses. You can create your own natural room fresheners using your favorite essential oil such as lavender oil or tea tree oil. Instead, you can use a scented candle or some incense stick to produce a mild aromatic scent.
Book Professional House Cleaners In Dubai
Don't waste your weekends on cleaning chores. Book professional house cleaners in Dubai to deep clean your house. Hiring Hourly maids in Dubai from Maids cleaning services offer you a lot of benefits. They reduce a lot of your stress and keep you relaxed. You can enjoy your weekend while hourly maids in Dubai take care of your cleaning chores.
In Home Maids, we provide reliable hourly maids in Dubai for your commercial and residential cleaning purposes. Our maids are experts and provided with the right cleaning tools for the best cleaning experience. For a dust free, spotless and germ free home, you can rely on home maids without any doubt. We are specialists in after party cleaning, laundry and pet care services.