Messed up counter tops, jumbled cabinets – these are some of the regular scenes in the kitchen, right? How to make your kitchen not to feel like it is too much stuffed in with things?  
          Start organizing your kitchen the right way so that even a low space kitchen can look more spacious. Dump out all the junks including broken utensils, jars without caps and start piling up everything neatly by cleverly utilizing  every inch of your kitchen space. Cleverly arrange utensils in your kitchen cupboards. Follow a minimalist approach so that your kitchen wont look over occupied. 
          Here are some clever organization ideas for your kitchen according to professional Hourly maids in Dubai. 
1. Maximize space
When it comes to maximizing kitchen spaces, especially when you own a low space kitchen, it is really hard to make the kitchen organized and clutter free. Hourly maids in Dubai suggests using foldable organizers where you can hide some of your kitchen accessories. Wall space is the best place to be utilized when you think of adding space to your kitchen. Accessories like pegboards can help a lot by giving access to keeping more accessories in them. You can also consider adding shelves or hang on stands to the walls where you can keep more utensils instead of keeping them altogether.
2. Empty your fridge and start reorganizing it
          A messed up refrigerator wastes a lot of your time and energy. when you search for a particular item, you'll take more time as you don't have an idea of what is being stored where. If you have a messed up fridge, professionals from maid company Dubai recommended emptying the fridge, and cleaning it before you start organizing and rearranging things. Give a wipe to your kitchen with a damp kitchen sponge to clear off any mild residues. You can use transparent containers to keep things inside because they can be identified easily. Another method is to label the containers to easily spot them. Keep all the bottles in order. You can designate different portions of the fridge for storing different sets of items. To prevent unpleasant odours inside the refrigerator, you can use natural agents like lemon. If you want to know how it works, please visit our previous blog on Top 5 Best Organic Cleaners From The Kitchen here.
 

3. 

Kitchen towels need a safe and close to be accessed place
          Hourly maids in Dubai says kitchen towels should be kept in a close place where you can easily access them. 'Most people prefer keeping kitchen linens inside kitchen drawers', says an expert from hourly maids in Dubai. Pull out racks can help better in this purpose. You can also fold the towels and keep them inside the kitchen shelf. Make sure that they need to be stored in hygienic places if you are using them to wipe washed plates or other utensils. If they are simply placed with messed up kitchen appliances, then there is a high chance that they will get dirty. You can also make use of rolling crates to keep kitchen clothes.
4. Group similar things together
          This is the greatest mantra for an organized kitchen. Empty your cabinets before you start organizing them. Group similar items together before you start arranging them back to the cabinets. Once similar items are sectioned together, dedicate specific positions for each group inside the cabinet and now you can arrange them accordingly. If you are preferring closed spaces to keep things, you can label them so that they can be accessed with ease in future. You can group all the items that go for the baking section, grilling, microwave , cleaning appliances and so on. This is a great way in making your kitchen space clutter-free and perfectly organized. It also reduces the chance for clutters in future.
5. Utilize every unwanted space
Hanging things reduces a lot of messes inside the kitchen. No matter how less spacious your kitchen space is, if you hang up things, it can create a lot of space inside the kitchen. You can attach a magnetic rod on your kitchen wall where you can easily store all the kitchen knives. You can also utilize the side of your drawer space to fix hooks where you can hang your cooking accessories. Simply fix some hooks on the walls and hang your wooden cutting board to instantly add style to your kitchen wall. There are so many utensils that take up a large amount of your kitchen space. Hourly maids in Dubai recommend creating a hanging storage for your pots and pans as it free up a lot of space. You can also hang your mugs, cups and other hangable utensils including aprons.
6. Use the space below your cabinets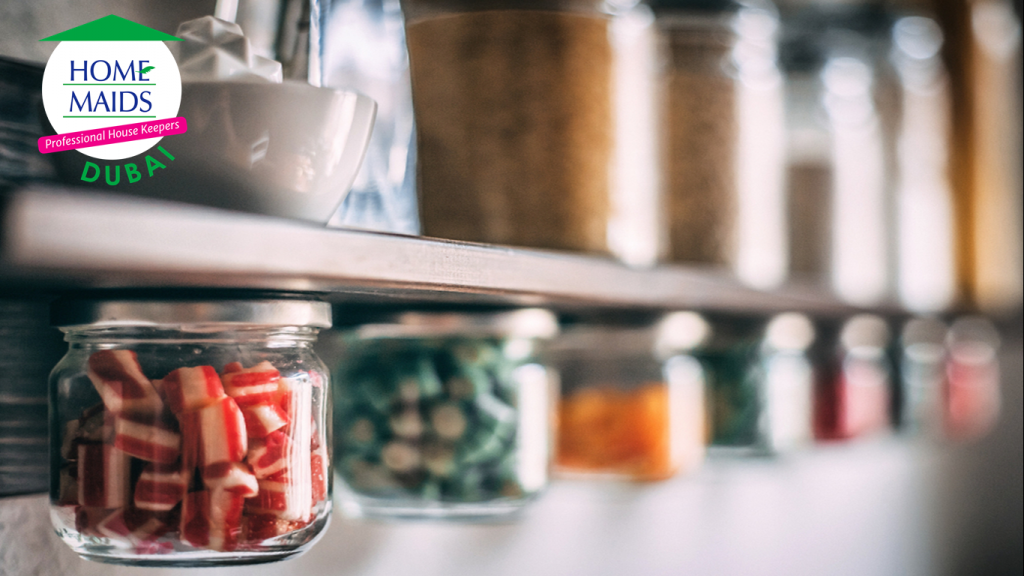 Upper cabinets offer the best storage solution. Do you know that space underneath upper cabinets can also be used as a storage space? You can mount a hooked storage rack below your cabinet or simply attach a magnetic rack to it. You can attach bottles which can be closed with metal caps to the magnetic rack. This way you can organize all of the spices and continents. You can also attach a hangable lightweight rack below the cabinet space where you can fold and keep your kitchen towels and aprons inside.
Leave your cleaning chores on Home Maids – Top Hourly Maids in Dubai
Home Maids is one of the leading Maid Company Dubai. You can book expert house cleaners and hourly maids in Dubai from Home Maids. We are renowned for our deep cleaning services in Dubai which encompasses house cleaning and office cleaning. Our expertise services are not limited to window cleaning, kitchen cleaning, laundry and ironing, we are also established as party helpers. Other than our wide-ranging cleaning services, we also provide pet care services in Dubai. Home maids provide trained pet sitters who love animals and can take care of your pets in the most efficient way. All our maids are well-trained, background checked and well-known for their reliable and quality services in cleaning. You can leave your cleaning chores on us with confidence.