We all love to have a clean home or office, especially in a place like Dubai. However, maintaining the cleanliness of our premises can be highly challenging. That's where an hourly maid service in Dubai can be of great assistance, ensuring your premises are kept neat and clean in every way. In this blog, we will provide you with a complete and detailed guide on how to hire hourly maids in Dubai. Stick with us until the end, as you will gain valuable information and insights from this blog.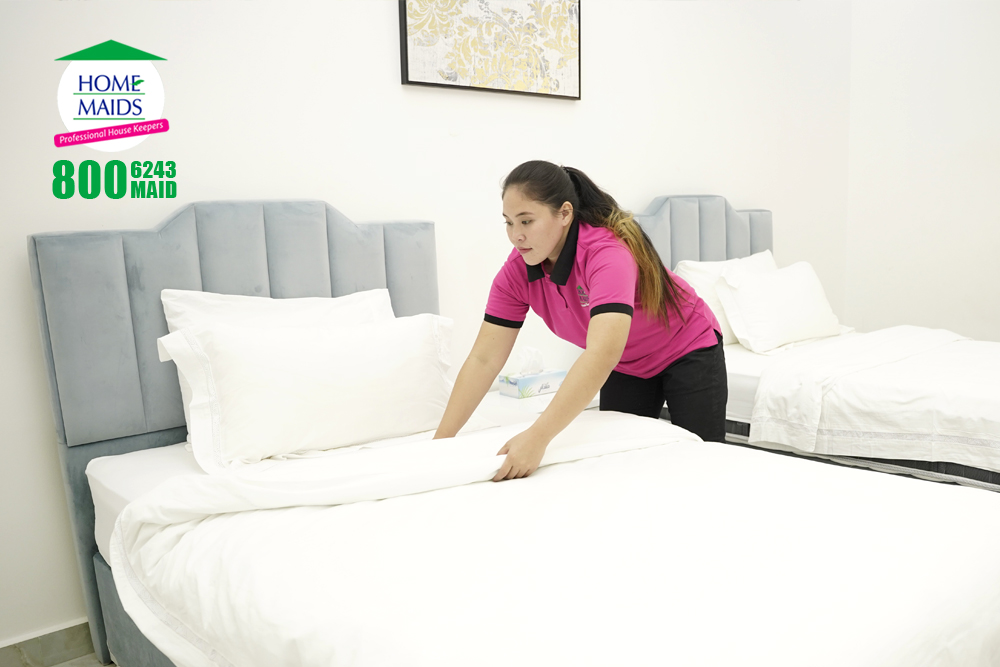 Benefits of hiring hourly maid service in Dubai 
Dubai, being a bustling city, often sees people in need of assistance with cleaning their homes. Hourly maids can address this need by offering temporary cleaning services, making it a practical choice for those who don't require a full-time maid. The benefits of hiring hourly maid services in Dubai include the following
Quality free time: 
When you have maids taking care of your house, you gain a significant amount of free time that you can invest in other productive activities, whether at the office or quality time with your family. Entrusting the household tasks to maids allows you to create lasting memories while they handle the work. This can also contribute to stress reduction, providing you with the opportunity to relax and unwind.
Professional cleaning services 
These hourly maid services are professional and certified in all aspects of their work and conduct. They prioritize punctuality and guarantee the best cleaning results for your home or office. Utilizing top-notch cleaning methods and environmentally friendly products, these services offer quality cleaning at a wallet-friendly price.
Flexibility and customization: 
Booking cleaning services with these maid agencies in Dubai is highly flexible, allowing you to schedule at your convenience. Whether you require a quick clean before hosting guests or a thorough session after a busy week, hourly maids in Dubai can adapt to your schedule. Additionally, you can customize the services to meet your specific needs, ensuring they cater to your requirements.
A healthy lifestyle 
Last but not least, let's address the most crucial aspect of your health, your colleagues, and your family's. When you engage the services of these maid services in Dubai, they prioritize making your home or office a safe environment. This ensures you can enjoy your time or be productive at work with peace of mind.
Also read: Maid Services in Dubai for Special Occasions: Readying Your House for Guests
Things to consider while hiring hourly maids in Dubai
Before selecting an hourly maid service, it is crucial to conduct thorough research on the maid agency. The internet is the best tool for this; you can explore their website and social media handles to gain insights into their services. Ensure to check if their previous customers are satisfied with the services provided before making your selection.
Before making a decision, it's advisable to compare pricing and quotations from four to five maid agencies. Additionally, inquire about any potential hidden charges to ensure clarity in your planning and decision-making process. This approach will help you choose the best service for your needs.
A proper communication between you and the maid agency
When selecting a maid agency, prioritize effective communication and excellent customer service. Look for an agency with staff who patiently listen to your needs, providing assistance accordingly. The hourly maids should be able to follow your instructions during their allocated time. Clearly communicate your expectations and preferences. Additionally, inquire about the cleaning products they use, opting for environmentally friendly options. Choose a cleaning company that values your feedback.
Before committing to regular services, consider arranging a trial session. This allows you to assess the quality of cleaning, the maid's efficiency, and whether the service aligns with your expectations.
  Some additional points to remember.
When booking a cleaning service, ensure your home or office is ready for cleaning. If you're not present, ensure the maid has all necessary access requirements to your community and house. Provide clear instructions for specific cleaning tasks or areas that need special attention. Effective communication ensures the maid delivers the level of service you expect.
Regularly offer feedback on the cleaning services, whether expressing appreciation for a job well done or providing constructive input for improvement. open communication develops a positive working environment. 
HomeMaids is the best hourly maids agency in Dubai at your service
We take pride in providing the finest hourly cleaning services in Dubai. Our well-trained maids are dedicated to performing tasks according to your preferences. Don't hesitate to book with us now to experience top-notch cleaning services from the best agency. If you're facing any issues, we're here for you. Contact us now to book the cleaning services.