Whether it's a birthday party, a festive celebration, a family reunion, or just a get-together with friends, people of Dubai frequently throw special occasions and gatherings. When we welcome guests, we all want our houses to look their best and create a cozy and friendly atmosphere. However, getting your home ready for guests may be a difficult undertaking, particularly if you lead a hectic life. Here's where hiring maid services in Dubai can save your life. We'll look at how hiring maid services in Dubai can help you prepare your house for important events in this blog.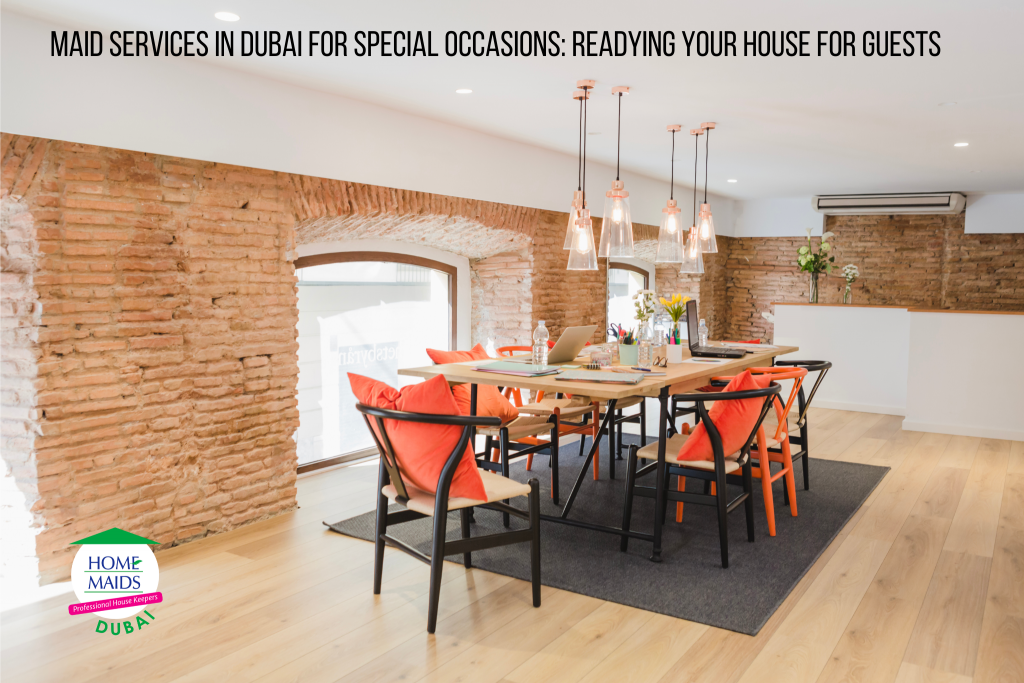 The importance of tidy and clean home:
A tidy and orderly home creates the ideal atmosphere for any special occasion you're hosting. It not only makes a good first impression on your visitors but also makes the atmosphere cozy and pleasurable for everyone. By keeping your house clutter-free, immaculate, and beautifully presented, maid services in Dubai may free up your time so you can concentrate on entertaining and welcoming guests.
Deep cleaning the mandatory step:
More thorough cleaning is frequently required for special occasions as compared to regular cleaning. All sections of your home can be thoroughly cleaned by professional maid services, which also include vacuuming, dusting, mopping. They can leave no detail unturned by paying close attention to areas that are often disregarded, like baseboards, window sills, blind and ceiling fans, etc.
Prepare the guest room:
Your guest rooms must be ready for people staying the night. In addition to dusting and cleaning the furniture and making the beds with clean sheets, Dubai maid services can also guarantee that the space is cozy and welcome. A tidy guest room can help your guests feel completely at home.
Also read The Complete Guide to Expert Home Cleaning Services in Dubai
Kitchen and dining room:
The center of any gathering is frequently the kitchen and dining areas. When it comes to pre-event kitchen cleaning, maid services may help ensure that your cooking and dining areas are pristine and prepared for meal preparation. This involves wiping off counters and appliances and making sure your kitchen is ready for the gathering.
Cleaning after the event:
The last thing you want to do after the event is start cleaning up. In order to ensure that your house is returned to its pre-event state, professional maid services can come back to undertake post-event cleaning. This entails taking down the decorations, getting rid of the trash, and cleaning up any spills. Get the best maid party cleaning service in Dubai from Homemaids.
Conclusion:
In Dubai, where hosting guests is a highly valued custom, preparing your house for important events is crucial. Your little secret weapon for making sure your home is spotless and inviting for visitors could be Dubai maid services. These services free up your time so you can concentrate on what really matters: spending time with your loved ones and making wonderful memories. They take care of the cleaning and tidying. Therefore, to ensure that everyone attending the event has an absolutely unforgettable time, think about hiring professional maid services in Dubai from the leading cleaning company Homemaids the next time you're organising a special occasion.