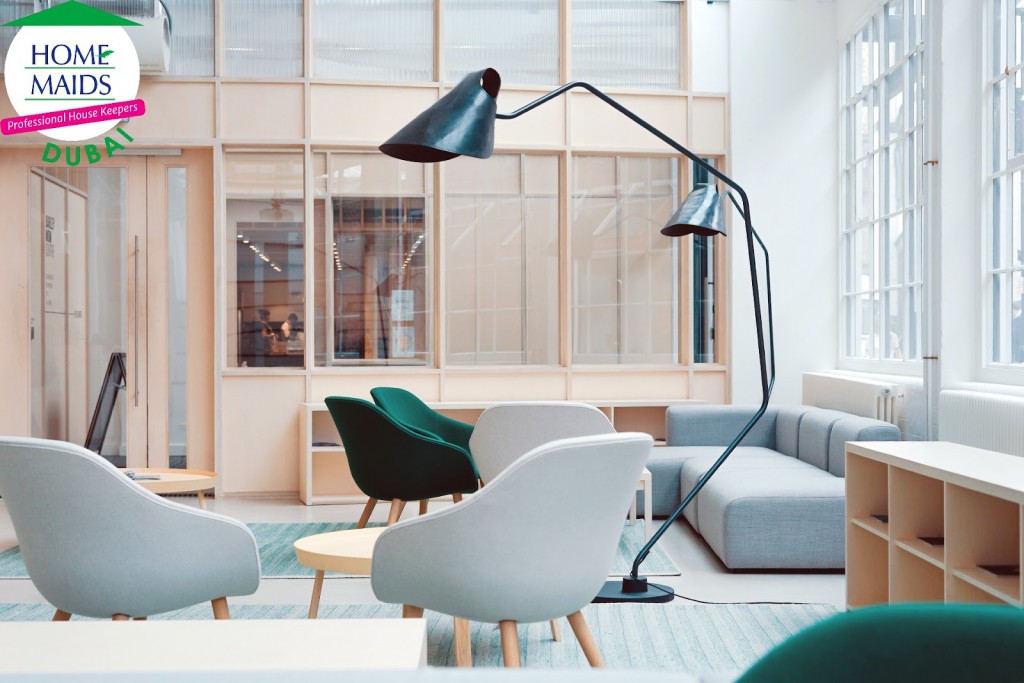 Have you ever thought about how often an office building or business needs a deep cleaning? Our working environment is as important as our home. We all know the importance of professional sanitation services as a result of covid – 19 pandemic. So keep your working environment germs-free through a professional cleaning service in Dubai.  To keep the office premises safe and germ-free you can rely on a maids company in Dubai. We are offering quality services and 100% satisfaction to our clients. 
Now get complete Disinfection & Sanitization done with sustainable, safe, and healthy living solutions for all areas of your home using advanced eco-friendly technologies. The professional cleaners at Home Maids create a safe and virus-free environment by providing the best disinfection service in Dubai. We disinfect and clean a broad range of residential buildings to ensure complete protection against all kinds of pathogenic microorganisms.
Through this blog, you can examine the specifics of deep cleaning and how often they are needed. 
Deep vs Regular cleaning
Why do you need a professional cleaning service? Because regular cleaning only makes your business look clean on a surface level. Deep cleaning can renovate your business by disinfecting surfaces, removing stains, and sanitizing highly traffic areas.  Professional cleaning companies have trained staff. They are well trained in how to handle each corner of a building and also they are known how to handle each material carefully. Because an office building may have expensive cushions, furniture, wood materials, etc which need special attention while cleaning. Disinfection service also extends their service to utilities like air ventilation, ac duct cleaning, and also common equipment like keyboards, mouse, and tables. Because they all handle too much traffic in a day and can cause the quick build-up of bacteria. 
 Regular cleaning helps to keep and maintain the appearance of the office. So deep cleaning of your business is so important at least once a month.
Why it's important 
We all are concerned about the cleanliness of the bathroom, door knobs, floor surface, office table, etc but bacteria can accumulate in areas where we can't see it. There are areas where the bacteria can accumulate as the facilities and surface employees share. bringing the contaminant from the outside. Here the importance of regular cleaning arises because a regular cleaning can control the accumulation of bacteria and germs but you need to disinfect and really get into the nook and corner of your business to effectively eliminate such germs.
Scheduling cleaning services
Here are some points to consider if you have small business premises with a light amount of traffic then you only need a deep cleaning once or twice a year. If you have a corporate office with full carpets, curtains will likely need a fresh deep cleaning every single month in order to keep the bacteria and germs that are being brought into the office from outside.
We all know the importance of cleanliness and disinfection because we all suffer so much during the pandemic. It's our responsibility to keep our surroundings neat and tidy. You can rely on any professional cleaners but choose wisely. Hire a professional cleaning company that can meet your needs. Homemaids is a maid agency in Dubai established in 2005. We have a well-trained and trustworthy maid who can give 100% quality service to our customers.
Our mission is to make every residential and commercial building in UAE a clean and worthwhile place for living. We will be consistently striving hard to provide excellent domestic cleaning services to all the residents of Dubai at an affordable rate, ensuring 100 % client satisfaction.