Disinfection And Sanitization Service

Dubai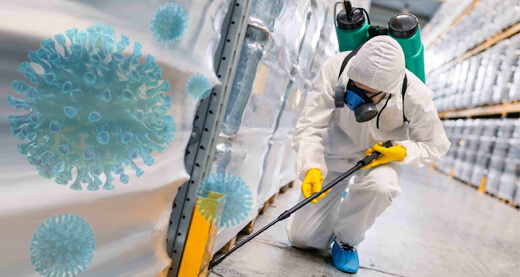 Now get complete Disinfection & Sanitization done safe, sustainable, and healthy living solutions for all areas of your home using the most advanced eco-friendly technologies. Expert cleaners at Home Maids create a safe and virus-free environment by providing the best disinfection service in Dubai. We clean and disinfect a broad range of residential buildings to ensure complete protection against all kinds of pathogenic microorganisms.
Promoting A Healthy Lifestyle
The disinfection process kills 99.999% of germs including viruses, bacteria, and fungi. In the light of wide spreading epidemics and pandemics, it is highly important to stay away from all kinds of disease-causing germs. We are dedicated to building a healthy living space and that is why we provide the best home disinfection service in Dubai to promote a healthy lifestyle.
Completely Safe Process
Our home disinfection service and sanitization services are completely safe for people and pet animals. We use the best bio-safe ingredients that are free from harmful toxins and we use hospital-grade disinfectants to ensure complete safety for you and your family. The process is 100% safe for kids, adults, and pets. Thus, eliminating disease-causing germs from every corner in a toxic-free way.
Expert Service
Avail best disinfection & sanitization process done safely by experts at Home Maids. Our cleaners are well trained in the disinfection and sanitization process. They are experienced in the field of residential disinfection and have the right knowledge and expertise in using the disinfectants and various disinfection and sanitization tools.
Total Protection
We ensure total protection against all kinds of germs to prevent the spread of diseases. Our cleaners disinfect every unnoticed space along with working on areas that have a high chance for frequent touches including doors, doorknobs, handles, tabletops, chairs, etc, and prevent the spread of diseases.
Time Saving Formula
At Home Maids, we provide the most efficient and less time-consuming disinfection and sanitization process for your home by breaking down into simple salt, and thus, a no-rinse required process.
Complete disinfection of your home using the latest and advanced home disinfection technology. Kills 99.999% of viruses, bacteria, and fungi safe for kids & pets no-rinse required.