Is cleaning the kitchen your worst nightmare? Here are some best kitchen cleaning tips by top home cleaners in Dubai.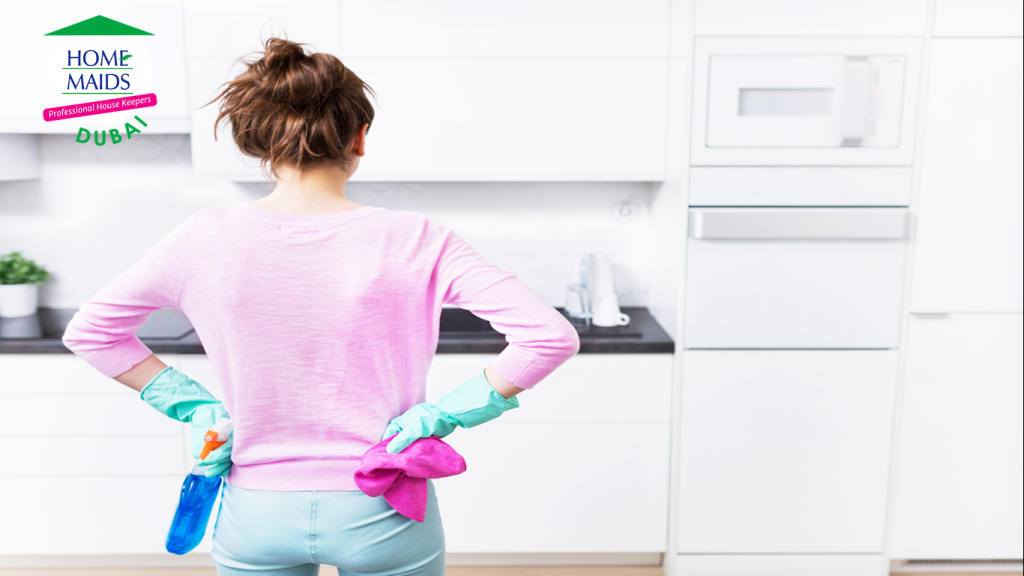 "If you can organize your kitchen, you can organize your life"
                                                                                                                                            – Unknown     
Kitchen, the heart of your home is the place where delightful feasts fall in love with soulful family chit-chats. The word Kitchen is derived from the Latin verb 'coquere' which later came into Cycene in Old English and Kitchen in modern English. The kitchen is now the new living room. It has become the favorite corner of the house where you can be the head-chef, where your cooking experiments are happening – whether it's about baking your favorite cake or grill some of your most liked meat-loaf. Don't you feel awesome to delight your favorite ones with a newly baked cake or some hot crisp cookies?
Let's flip this coin, here comes the most challenging bit  – 'the cleaning part'. The kitchen always needed to be kept tempting. Kitchen cleaning is one of the most essential and fundamental things to do. It's a part of hygiene and to be healthy, what we intake needs to be cooked in hygienic surroundings. Why Cleaning the kitchen still a nightmare for most of us? If done in a proper and organized way, Kitchen will always be your happy place, forever! Here are some tips and tricks by top home cleaners that will help you in cleaning your kitchen in a breeze. 
Picking the Right Cleaning Accessories
We may have a lot of cleaning accessories, but not the right one and hence cleaning the kitchen has become an uphill battle for most of us. According to home cleaners, choosing the right accessory decides whether you can make kitchen cleaning an arduous task or a painless job. Here is a guide that helps you in picking the right cleaning equipment for your kitchen.
Selecting the Proper Cleaning Brush
Home cleaners recommend using proper cleaning brushes as they will make your work faster and cuts down on the required travail. There are multiple kinds of brushes available in the market. You need to identify the right one which suits your needs. Here are a few brushes that are useful for various kitchen necessities.
Dual-sided lint remover brush can remove all the dirt and lint from your kitchen clothes.
A scrubber brush with soap dispenser can make washing your vessels double easy. 
Most home cleaners use latex scrubbing gloves for household cleaning as they give great protection for your hands.
Eco Friendly and biodegradable coir water bottle cleaning brushes are a great alternative to the ones available in the market. 
Using a deep clean brush set with a large brush for grout and stovetops, small brush for other tight spaces, a wiper blade that cleans drains and other crevices.
Using Dish Racks and Drainers
Dish racks and drainer mats are a wieldy option for your wet dishes. Always consider the size and type of your utensils before purchasing one. A dish-drainer usually can last up to 3 to 4 years. So buy one which has long durability. Also, do not forget to use a strainer for your kitchen sink which helps in anti-blocking dirt inside the sink drain.
Choosing Mops and Brooms
Depending on your choice, there are plenty of options to select between manual to electric mops and brooms. 
A microfiber flat mop with a refill can be used for dry as well as wet mopping. It can also be used to clean walls, glass windows, and ceilings.
A wet and dry vacuum cleaner with a powerful suction and blower function makes your work effortless. 
For people who have backache and stiff shoulders, 

cleaning is a tough job. They can use an electric spin scrubber which can lighten their burden of cleaning, hence, they do not have to bend to wipe away the dirt.
When you use an angular broom which has their cut at an angle instead of having straight bristles, these brooms which makes it easier to clean in corners.
If you are looking for some luxury, cinnamon-scented brooms are the newcomers in the market. They can add a pleasant fragrance to your kitchen corners. 
Making your kitchen odor free
Everyone wants their kitchen to smell good, a kitchen with moreish flavors. Deodorizing your kitchen is sometimes a strenuous task. Here are some tips from top home cleaners.
Mix two spoons of baking soda along with 2 spoons of lemon and salt with a cup of hot water and pour it into your kitchen sink drainer will make it odorless. 
Pluggable air purifiers and sanitizers are available in the market nowadays. 
Hire Professional Home Cleaners from Cleaning Companies in Dubai
It's a busy, busy world, as Richard Scarry, one of the world's best-loved children's authors, named his book. You may not get time to clean your home every day switching between your professional life, personal life, and household chores. To ease your work, there come Cleaning services in Dubai which provide home cleaning services according to the requirement.

You can see numerous cleaning companies in Dubai. When it comes to matters of hygiene, the selection needs to be judicious. Be wise about choosing a service that offers the expert solution for all your cleaning needs. Choose a service that can make your work done promptly, in a professional way within your budget. Home maids – one of the best Cleaning Agencies in Dubai, assist you with all your cleaning requirements with an expert touch for a gleaming Kitchen.