In today's fast-paced world, where time is a precious commodity, having a reliable and efficient house cleaning company in Dubai can be a game-changer for residents. A clean and well-maintained space not only enhances the overall ambience but also contributes to a healthier and more productive environment. With numerous options available, it can be overwhelming to find the best house cleaning company in Dubai. In this blog, we will explore the key traits that distinguish a top-notch house cleaning service, helping you make an informed decision for your cleaning needs. So stick with us until the very end because we are sure you will find great value.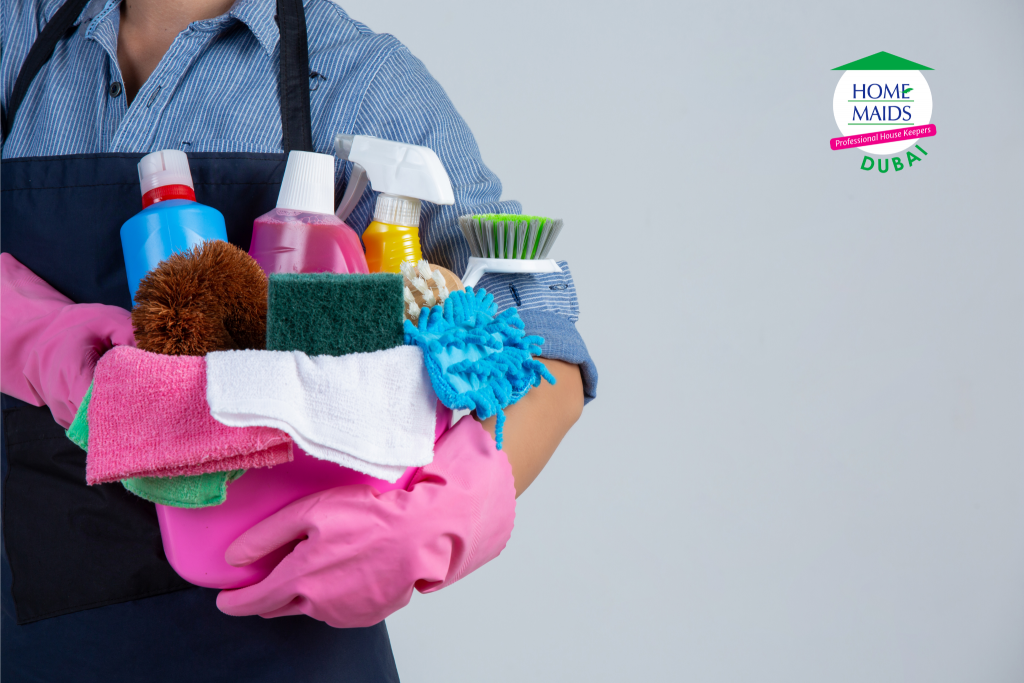 Steps to follow :
When selecting a house cleaning company in Dubai, it is best to consider the following factors:
1. Professionalism and Reliability:
The best cleaning company is always professional and reliable as they understand the value of time and respect your privacy by arriving on time. They will provide you with the most reliable results, ensuring that your home is cleaned thoroughly and to your satisfaction every single time.
2. Skilled and Trained Professionals:
Top house cleaning companies in Dubai invest in their staff's training and development. They equip their cleaners with the necessary skills and knowledge to handle different cleaning tasks efficiently and safely. These trained professionals are better equipped to address specific cleaning challenges and deliver high-quality service that meets industry standards. Overall, the cleaning staff from these companies are well-versed in both professional work and personal behaviour.
3. Wide Range of Cleaning Services:
The best cleaning company in Dubai offers a wide range of cleaning services that make life easier for you as you can get everything under one roof. From regular house cleaning to deep cleaning, upholstery cleaning, and more, they should be able to tailor their services to your requirements. This versatility allows you to choose the cleaning package that best suits your home and lifestyle.
4. Flexibility and Customization:
A reputable house cleaning company in Dubai understands that each home is unique and may have specific cleaning preferences. They offer flexibility and customization options, allowing you to request specific cleaning tasks or adjust the cleaning schedule according to your convenience. This way, you will get the best cleaning results without any hassles.
5. Transparent Pricing:
A maid service company in Dubai always offers transparent pricing. When you book a service with them, they will provide you with a clear upfront price with no hidden charges. You should be able to know the cost of the cleaning service before booking, ensuring peace of mind and avoiding any unexpected expenses.
6. Environment-Friendly Cleaning Products and Equipment:
Using environmentally friendly cleaning products (government certified) is very crucial for cleaning homes. The best house cleaning company in Dubai invests in eco-friendly and safe cleaning solutions that effectively eliminate dirt, grime, and germs without harming the environment or your health. Additionally, modern and efficient cleaning equipment enhances the overall cleaning process.
7. Commitment to Customer Satisfaction:
Customer satisfaction is the ultimate priority for top-notch house cleaning companies. They value feedback and take the necessary steps to address any concerns promptly. This approach has helped them excel in their business. Their commitment to excellence is reflected in the positive reviews and testimonials (both online and offline) from satisfied customers.
8. Safety Measures While Cleaning:
Since the cleaning staff are well-trained, they will make sure to handle all the valuable items in your house with extra care while cleaning so that nothing gets broken, and you get complete peace of mind. A good cleaning company also ensures that all the staff are insured in case any accidents happen to them at work.
9. Thorough Background Checks:
Allowing cleaners into your house always requires a lot of trust, as it's your personal space with all your valuable belongings. The best house cleaning companies conduct thorough background checks on their cleaning staff, ensuring that you can feel confident and secure with the cleaning staff working in your house.
10. Easy Bookings:
A very good cleaning service will focus on automating their business so that customers face no hassle while booking their home cleaning services. It is crucial for a cleaning company to integrate technology into their business to interact with the right customers.
Why should you choose us?
We are the best home cleaning brand in Dubai for more than a decade, with exceptional cleaning staff and a hundred per cent commitment towards our customers. We are proud to say that we have all the qualities of a good cleaning company mentioned above. From booking our services to its execution, we make sure everything is smooth so that you face no hassle. If you are convinced and are looking for the best home cleaning services, then contact us and check out our other services.